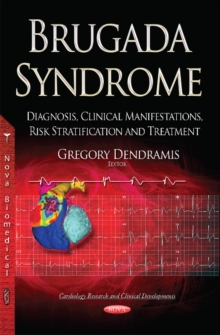 Brugada Syndrome : Diagnosis, Clinical Manifestations, Risk Stratification & Treatment
Paperback / softback
Description
Electrocardiographically characterised by a distinct ST-segment elevation in the right precordial leads, Brugada syndrome (BrS) is an arrhythmogenic disease reported to be responsible for at least 4% of all sudden deaths (at least 20% of sudden deaths in those without structural heart disease), and is a leading cause of death in subjects under the age of forty years.
Global prevalence of the BrS varies from 5% to 20% in every 10,000 inhabitants worldwide, and it is considered endemic in Asian and Southeast Asian countries.
The diagnosis is mainly based on electrocardiographic features and may be hampered by incomplete penetrance, particularly because of dynamic ECG manifestations.
As far as we know, inheritance occurs via an autosomal dominant mode of transmission, and about eighteen genes have been associated with BrS; thus far, genetic abnormalities are found in 30-50% of genotyped BrS patients.
Mutations in the cardiac sodium channel gene SCN5A are identified in 1128% of patients with BrS, with over 300 different mutations of SCN5A having been identified as the list still grows. Because a genotype remains lacking for at least half of BrS probands, a negative genetic test does not rule out BrS.
Febrile states, dysionia and many drugs such as vagotonic agents, sodium channel blockers, -adrenergic agonists, ss-adrenergic blockers, antidepressants, and alcohol and cocaine toxicity may unmask the electrocardiographic concealed ECG manifestations of BrS.
Identifying patients with BrS at risk of malignant arrhythmias and sudden cardiac death remains the most important objective and therefore the fundamental question remains on the best strategy for assessing the real disease-associated arrhythmic risk, especially in asymptomatic patients.
The therapeutic approach for patients with BrS is centered on the prevention of cardiac arrest and syncopal events due to ventricular arrhythmias.
Lifestyle changes, such as never using drugs that may potentially induce ventricular arrhythmias and an immediate treatment of fever, should be recommended in all patients with diagnosis of BrS.
Some drugs have been tested in BrS patients, but controlled data and/or randomised studies proving their real effective have not been performed.
Currently, the cornerstone of therapy for the prevention of sudden cardiac death (SCD) is an implantable cardioverter defibrillator (ICD).
An accurate individual risk stratification to select patients for ICD implantation should be accurately performed, particularly in asymptomatic patients.
Lastly, catheter ablation of the substrate located in the anterior epicardial region of the right ventricular outflow tract may be considered in patients with a history of arrhythmic storms or repeated appropriate ICD shocks.
The study of the areas of delayed depolarisation in patients with BrS and the procedure of catheter ablation of the substrate located in the anterior epicardial region therefore opens new horizons in regards to the management of patients with extremely frequent ventricular tachycardia/ventricular fibrillation (VT/VF), for patients at high risk who refuse the implantation of an ICD, and for a better prognostic stratification of patients with BrS not classified as high risk for SCD.
Information
Format: Paperback / softback
Pages: 60 pages
Publisher: Nova Science Publishers Inc
Publication Date: 01/12/2015
Category: Cardiovascular medicine
ISBN: 9781634839488
Free Home Delivery
on all orders
Pick up orders
from local bookshops