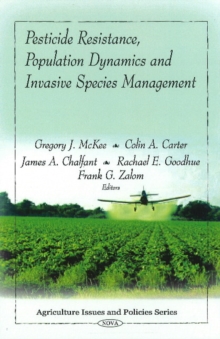 Pesticide Resistance, Population Dynamics & Invasive Species Management
Hardback
Description
This book describes a dynamic bioeconomic simulation model that represents the biological, economic, and regulatory features of a specific invasion management problem-the invasion of California strawberries by the greenhouse whitefly, Trialeurodes vaporariorum, and the pesticide use restrictions imposed by California regulators to manage pesticide resistance.
In agriculture, invasive species represent a unique challenge for public policymakers and economists analysing optimal pest control policies.
To accurately evaluate policies involving invasive species, economic models must describe the inter-temporal features of producer responses to invader biology, seasonal changes in demand, and the policies themselves.
Responses to externalities from pest control, such as pesticide resistance or pest movement, complicate finding the optimal policy and must be accounted for.
The model described at length in this book has three components: the population dynamics of the greenhouse whitefly, a population-yield damage function, and grower profit maximisation.
This book consists of public domain documents which have been located, gathered, combined, reformatted, and enhanced with a subject index, selectively edited and bound to provide easy access.
Information
Format: Hardback
Pages: 135 pages, tables & charts
Publisher: Nova Science Publishers Inc
Publication Date: 01/08/2010
Category: Pest control
ISBN: 9781607417583
Free Home Delivery
on all orders
Pick up orders
from local bookshops