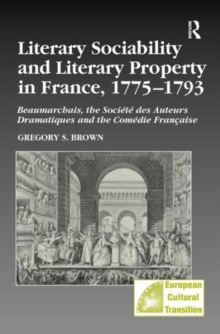 Literary Sociability and Literary Property in France, 1775-1793 : Beaumarchais, the Societe des Auteurs Dramatiques and the Comedie Francaise
Hardback
Description
The first full-length, scholarly study of the Societe des auteurs dramatiques (SAD), this book describes the form, the meaning, the achievements, and the failures of the first professional association for creative writers in European history.
Founded by the well-known playwright Pierre-Augustin Caron de Beaumarchais in 1777 under the protection of prominent aristocrats at the court of King Louis XVI, the SAD comprised the playwrights most closely associated with the royal theater of the kingdom, the Comedie FranAaise.
Its two dozen members discussed and worked to advance both their collective interests under the royal theater regulations (which governed such issues of literary property, creative control, and remuneration) and to promote their public image as playwrights and men of letters more broadly - while at the same time competing with each other, sometimes intensely, for control over that image. Gregory Brown traces the story of the SAD from its conception in the mid-1770s through to the French Revolution, exploring first the Society's founding in 1777, then its trajectory until its dissolution at the end of 1780, and finally discusses a revival of the group during the Revolution.
In each chapter, Brown analyzes the strategic efforts of Beaumarchais and his associates, to shape regulations and legislation concerning droits d'auteur (authorial remuneration and literary property) and their efforts to reshape the public status and identity of playwrights through correspondence, print and face-to-face encounters with the troupe of the Comedie FranAaise, the theater's aristocratic supervisors at court, its lawyers and government administrators, its commercial publics, and other, authors. Brown argues against previous treatments of the SAD, which have presented it as a spontaneous, dissident challenge to constituted social and political authority under the Old Regime.
He demonstrates instead how the SAD emerged from within existing lines of authority in e
Other Formats
Paperback / softback from £39.19
EPUB from £39.59
PDF from £39.59
Also in the Studies in European Cultural Transition series | View all