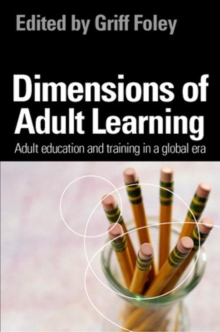 Dimensions of Adult Learning
Paperback / softback
Description
"Griff Foley has done those of us who are interested in adult learning a favour...
Dimensions of Adult Learning provides an up-to-date, internationally relevant and comprehensive overview of an increasingly diverse field of study... an ideal introduction to the field for teachers, researchers and policy-makers." Journal of Education and Work"[The book] lives up to its ambitious name and has something to offer policy-makers and practitioners who want to take a fresh look at the expanding world of adult learning." Talisman"This timely and valuable book makes an important contribution to our understanding of key recent developments in adult education and their significance.
Reflecting the increasingly global nature of scholarship in the field, well-respected international contributors analyse issues facing practitioners today and consider how these can be most positively embraced to further the international cause of adult learning and social justice." - Janet Hannah, University of Nottingham. This broad introduction to adult and post-compulsory education offers an overview of the field for students, adult educators and workplace trainers.
The book establishes an analytical framework to emphasise the nature of learning and agency of learners; examines the core knowledge and skills that adult educators need; discusses policy, research and history of adult education, and surveys innovations and issues in adult education and learning.
It also examines adult learning in different contexts: on-line learning, problem-based learning, organisational and vocational learning.
Edited by internationally known academic Griff Foley, the book features chapters from leading contributors in the UK, North America, Australia and worldwide.
Contributors: Damon Anderson, Francesca Beddie; Carmel Borg; Bob Boughton; Mike Brown; Shauna Butterwick; Tara Fenwick; Laurie Field; Keith Forrester; Vernon Galloway;Andrew Gonczi; Nancy Grudens-Schuck; Joce Jesson; Linda Leach; Peter Mayo; John McIntyre; Paul McTigue; Mike Newman; Tom Nesbit; Kjell Rubenson; Peter Rushbrook; Tom Sork; Barbara Sparks; Bruce Spencer; Peter Stephenson; Nelly Stromquist; Lucy Taksa; Mark Tennant; Shirley Walters; Michael Welton
Information
Format: Paperback / softback
Pages: 352 pages, Illustrations
Publisher: Open University Press
Publication Date: 01/01/2004
Category: Adult education, continuous learning
ISBN: 9780335214488