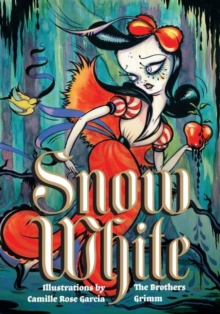 Description
A breathtaking, wildly original spin on the classic Brothers Grimm fairy tale, Harper Design's Snow White is boldly and beautifully reimagined by acclaimed artist Camille Rose Garcia, the illustrator of the New York Times bestseller Alice's Adventures in Wonderland.
Delivering a fresh take on a vintage fairy tale, Garcia's dark and Disneyesque art, with its vivid colors and luscious, dripping blacks, will weave a spell around fans of illustrated books from Daniel Egneus's Little Red Riding Hood to Femke Hiemstra's Rock Candy-and it's the perfect escape into fantasy for anyone excited about Mirror, Mirror, starring Julia Roberts and Lily Collins and Snow White and the Huntsman, starring Charlize Theron and Kristen Stewart.
Information
Format: Hardback
Pages: 80 pages
Publisher: HarperCollins Publishers Inc
Publication Date: 26/01/2012
Category: Traditional
ISBN: 9780062064462
Other Formats
EPUB from £1.29
Hardback from £5.59
Free Home Delivery
on all orders
Pick up orders
from local bookshops
Reviews
Showing 1 - 5 of 5 reviews.
Review by tapestry100
16/06/2015
I'm fairly certain everyone is familiar with the story of Snow White, so I'm not going to go into details about the story. What I am going to tell you, though, is you should go pick up this edition of <i>Snow White</i>! Right now!!Camille Rose Garcia's art is so visually striking and unique, and the typographic design of the book really works with her art style to create something rather beautiful. I was first introduced to her style when I picked up the edition of Lewis Carrol's <i>Alice in Wonderland</i> that she illustrated a couple of years ago, and fell in love with her work then. I was thrilled when I found this new volume of <i>Snow White</i> at my local bookstore the other day, and am really hoping that she continues this partnership with HarperDesign and continues to illustrate more classic fairy tales. One book I'd particularly like to see in her vision is <i>The Wizard of Oz</i>. I'd be willing to bet she could create a truly stunning version of Oz and its inhabitants.
Review by Sunflower38
16/06/2015
I hadn't read the Brothers Grimm version of Snow White until today. I enjoyed it albeit being very different from the Disney version. <br/><br/>However, what makes this book exquisite are the illustrations by Camille Rose Garcia. They are beyond words, in my opinion. The dust jacket as well as the outside of the book are magnificently done. Simply, this is one beautiful book, a feast for the eyes. I am very pleased to own it.
Review by crfonten
16/06/2015
One of the oldest recorded versions of Snow White, this book would be great to read to students. It isn't as different from the Disney version as a lot of the fairy tales are, but it is still a good story. It would be nice to read when doing a study on folklore.
Review by lmalak1
16/06/2015
I thought this book was okay. One reason why I wasn't in love with this book was due to the ending. In the end, Snow White's evil step mother is forced to dance to her death in iron shoes that were heated over a coal fire. I know the book is written by the Brothers Grimm, but it still seems so gruesome and menacing. It makes me really sad.A second reason why I wasn't thrilled by this book was the characters. Snow White is an idiot in this book. I feel like the Brothers Grimm were trying very hard to teach about stranger danger but they failed miserably. Snow lets the evil step mother into the house every single time, and every single time something awful happens. How did she not learn her lesson the first time?The main idea of this book is that bad things will eventually happen to bad people, don't let strangers into your house, and sometimes happening upon a cottage can save your life.
Review by MsBridgetReads
16/06/2015
I have always loved the story of Snow White (Disney Movie) and this book just made my love grow even more! <br/><br/>The story itself was amazing but to add the pictures to it? <b>Even Better!</b> The picture are beautifully creepy! And it has me wanting to pick it up again just to look at the pictures! These pictures have me at the point that I want to go pick up more books by <i>Camille Rose Garcia</i>. The first book that I saw that was illustrated by her was <i>Alice In Wonderland</i> and people on Booktube were talking about it. This is one of those times I <b>had</b> to give into the hype. It took me a few months to find the books with these drawings in them and when I did, I bought them immediately! I have yet to read <i>Alice In Wonderland<i> but I can't wait to get to it, just to see the pictures alone! <br/><br/><i>Snow White</i> will be one of my top favorites on 2014, for the story and the pictures! <br/><br/>There really isn't a whole lot I can say about this book that majority of us in this world hasn't seen in the movie or even read in the book.