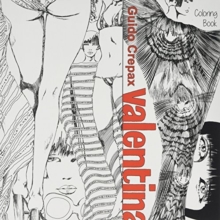 Valentina: Coloring Book
Paperback / softback
Description
Sophisticated, sensual, erotic, irreverent, ironic, surreal: the character of Valentina, created by the great Italian illustrator Guido Crepax (1933-2003), has entranced readers of different generations in every part of the world.
She has become such an icon of sensuality and strong symbol of women's emancipation that she has appeared in film.
The fashion photographer with the jet black pageboy hairstyle, which frames a face poised between dreaminess and innocence a look inspired by the American silent cinema actress, Louise Brooks has treated readers with unforgettable stories and atmospheres, the mirror and portrait of her time; they have become a cult today.
The marvellous drawings of Valentina and the dreamlike art of her "father"/illustrator co 96 pages 25 x 25 cm me to life in this colouring book, AUTHOR: Guido Crepas (15 July 1933 in Milan 31 July 2003 in Milan), better known by his nom de plume Guido Crepax, was an Italian comics artist.
He is most famous for his character Valentina, created in 1965.
The Valentina series of books and strips became noted for Crepax's sophisticated drawing, and for the psychedelic, dreamlike storylines, generally involving a strong dose of erotism.
A film based on his work called Baba Yaga, featuring the character Valentina, was made in 1973. in which the refined illustrations of the comic strip can be easily coloured, while maintaining their elegant, melancholy glamour.
In this book, you can feel the emotion of interacting with one of the greatest masters of the comic strip, relive the adventures of one of the best-loved characters of the imagination, and express your creativity, breathing life into a personal interpretation of the story proposed.