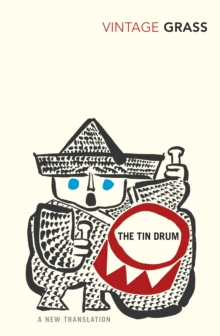 The Tin Drum (Vintage War)
Paperback
Description
WITH A NEW FOREWORD BY THE AUTHOR On his third birthday Oskar decides to stop growing.
Haunted by the deaths of his parents and wielding his tin drum Oskar recounts the events of his extraordinary life; from the long nightmare of the Nazi era to his anarchic adventures is post-war Germany.
Information
Format: Paperback
Pages: 608 pages
Publisher: Vintage Publishing
Publication Date: 01/10/2010
ISBN: 9780099540656
Free Home Delivery
on all orders
Pick up orders
from local bookshops
Reviews
Showing 1 - 1 of 1 reviews.
Review by clfisha
16/06/2015
A lyrical and captivating, humorous, beautiful and grotesque German classic with a new English translation (2010 see below) that makes the original shine.Oskar, our unreliable narrator, recounts his life from his bed in the mental hospital. And oh what a life. A life where he decided to stop growing at 3 and only ever to drum. A life where he could singshatter glass. A life of love, death, blasphemy and sex. Where he was a stone cutter, a jazz musician, a nude model, the head of a deviant gang. It is a book that encompasses life, a book that gently takes you by the hand and wraps its beautiful language, its musical beat around you and never lets go. It could be seen to be shocking but it is never dull. Political and allegorical it maybe, a social commentary on Germany during and after the war (WWII) but it's also a superb story and I enjoyed it as such. Theme's hover gently, connections draw together the text, long sentences flow and crash into short ones. The characters dance in Oskar's story too, fully alive. There is never a dull moment, even for the tiny degenerations into insanity.I've also been told it makes a good impression to begin modestly by asserting that novels no longer have heroes because individuals have ceased to exist, that individualism is a thing of the past, that all human beings are lonely, all equally lonely, with no claim to individual loneliness, that they all form some nameless mass devoid of heroes. All that may be true. But as far as I and my keeper Bruno are concerned, I beg to state that we are both heroes, quite different heroes, he behind his peep hole, I in front of it; and that when he opens the door, the two of us, for all our friendship and loneliness, are still far from being some nameless mass devoid of heroes. One of the better books I have read and if your are in the mood for long immersement in deep waters may I highly recommend this but please go for the new English translation.Comment on the new translation The translators afterword is fascinating on the trade of a translator but also sheds to light the difference they can make, on the aims of a translator: "Do we owe our allegiance to the reader or to the author?" I.e. do they make it more accessible in language or culture to target audience. I know my preference but it's an interesting point.Here he has worked very closely with the author to bring the text in line with the original. Long sentences, originally were broken up for easy digestion and these were restored, as was the rhythm and certain themes (i.e. left handiness). I really can't imagine this book being as good with an earlier translation so I urge you to seek it out.
Also in the Vintage War series