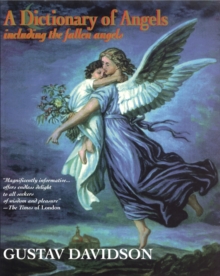 A Dictionary of Angels including the Fallen Angels
Paperback
Description
Gustav Davidson's classic text, A dictionary of Angels: Including the Fallen Angels, is the result of sixteen years of research in Talmudic, gnostic, cabalistic, apocalyptic, patristic, and legendary texts.
The classic reference work on angels is beautifully illustrated and its reissue coincides with the resurgence of belief in angels in America.
This well researched and exquisitely illustrated dictionary is a wonderful collectable for all those who believe in angels, miracles, lore, and faith.
Information
Format: Paperback
Pages: 387 pages, Illustrations
Publisher: Simon & Schuster
Publication Date: 01/10/1994
Category: Reference works
ISBN: 9780029070529
Free Home Delivery
on all orders
Pick up orders
from local bookshops
Reviews
Showing 1 - 5 of 7 reviews.
Previous | Next
Review by melannen
16/06/2015
This is a wonderfully comprehensive reference, well-annotated. It's if anything a bit *too* comprehensive - many of the entries are simply a name and a citation, and perhaps a little more commentary would be nice. But it's worth the shelf space just for the appendices, which are an amazing sourcebook of angelic/Enochian magic.
Review by CarlaR
16/06/2015
Wonderfully comprehensive. A nice addition to my bookshelf.
Review by cleverusername2
16/06/2015
This is one of my favorite time waster books. It is a fascinating, detailed, and exhaustive treatment on the subject of angels and spirits of Judaic, Christian, and Islamic mythologies. The Abrahamic religions I might say. I found the Kabbalah research interesting. It seems that Jewish scholars had an angel for everything, one for every hour of the day and a demon for every hour of the night. That sort of thing; a full delineation of the Powers and Thrones emanating from the all powerful God. Very interesting book, highly recommended.
Review by 9days
16/06/2015
An amazingly complete collection of angels from all over the world. Also included are some of the more well known demons (such as Lillith). There's also appendexs' which cover material from angelic invocation to the angelic alphabet. And the book is worth it for the bibliography alone. All in all, the most comprehensive book on the subject (and an interesting read).
Review by zophiel666
16/06/2015
This book is the go-to reference for anyone wanting to find information on angels. I have several other angel themed "dictionaries" and "encyclopedias", but none are as useful and interesting as Davidson's-- in fact, many get most of their information from this very book anyway. If anyone is seriously interested in angels and angelology, this is a must have reference. The book is worth the price simply for the appendices and bibiography, and the main dictionary makes it even better. This is probably one of the most often used books on my shelf.