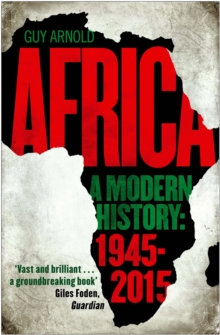 Africa: A Modern History
Paperback
Description
The end of the Second World War signalled the rapid end of the European African empires.
In 1945, only four African countries were independent; by 1963, thirty African states created the Organization of African Unity.
Despite formidable problems, the 1960s were a time of optimism as Africans enjoyed their new independence, witnessed increases in prosperity and prepared to tackle their political and economic problems in their own way.
By the 1990s, however, the high hopes of the 1960s had been dashed.
Dictatorship by strongmen, corruption, civil wars and genocide, widespread poverty and the interventions and manipulations of the major powers had all relegated Africa to the position of an aid 'basket case', the world's poorest and least-developed continent.
In Africa: A Modern History Guy Arnold brings a lifetime's thought and experience to his examination of the continent during these momentous years.
He argues that imperialism has cast a long shadow and differentiates between external pressures to control Africa and the internal failures of its leadership.
In conclusion he assesses whether twenty-first century Africa can promote its own recovery and renaissance.
Africa: A Modern History looks set to stand for many years as the definitive account of what happened in Africa over this period.
Information
Format: Paperback
Pages: 1076 pages, 5x4 b/w plates
Publisher: Atlantic Books
Publication Date: 10/08/2006
Category: African history
ISBN: 9781843541769
Other Formats
Hardback from £28.89
EPUB from £32.00
Free Home Delivery
on all orders
Pick up orders
from local bookshops
Reviews
Showing 1 - 1 of 1 reviews.
Review by johnthefireman
16/06/2015
A truly monumental work, this is the history of post-colonial Africa.Arnold is very sympathetic towards Africa. He analyses variousinfluences on newly-independent African states, including the Cold War,and neo-colonialism - the unwillingness of the former colonial powersto give up economic power even though they had surrendered politicalcontrol. His analysis of the emergence of the one-party state is verygood. He is critical of the aid industry, a position I agree withwholeheartedly.He makes some errors in his treatment of Sudan, which is my ownarea of specialist expertise. On p649 he refers to the 1985 overthrowof Numayri as a "coup", whereas it is generally regarded as an intifada(popular uprising). More seriously, on p650 he attributes the 1989 coup(which was a coup) to "army officers who had been pressing for peace inthe South". This was erroneously believed by many during the first fewdays after the coup, particularly as army officers had issued anultimatum to the government shortly beforehand demanding peace in thesouth. However it quickly became clear that this was an Islamist coupby a different group of officers, deliberately intended to pre-emptmoves towards peace which resulted from the earlier ultimatum. I was inSudan during all these events and witnessed all of this first hand.Spelling mistakes such as "Rumbuk" for Rumbek (p840) and "Hegliz" forHeglig (p841) should not have passed the proof-readers. "Western aidagencies... pulled their operations..." (p841) during the infamousMemorandum of Understanding dispute in 2000 is a grossover-simplification and reproduces the propaganda of those sameagencies. In fact, as I documented at the time, only around six out offorty or so agencies actually withdrew. The section on Sudan onpp838-843 is actually one of the weakest in the whole book. It readslike a list of short facts with no real attempt at analysis.A more general criticism is that the book could have benefited froma little more editing for continuity. In many instances successiveparagraphs seem to have been researched separately and put togetherwithout regard for repetition of some facts and phrases.But for all this, it remains an excellent book.