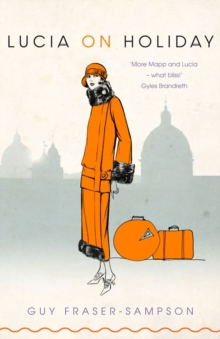 Lucia on Holiday : A Mapp & Lucia Novel
Paperback
Description
She's back! When arch-snob Emmeline Lucas (known universally as Lucia) makes some money on the stockmarket, the wheels are set in motion for a new adventure - and this time, her ambitions are larger than ever.
But eternal rival Elizabeth Mapp-Flint is determined to outshine Lucia and she's got royalty on her side.
The much-loved Mapp and Lucia series takes a new turn as the two legendary protagonists travel to the continent to lock horns in an idyllic Italian setting.
Can Mapp upstage Lucia on foreign soil so far from Tilling?
What is Georgie's new valet up to? And will Lucia's financial speculation lead to rags or more riches? 'Lucia On Holiday' is a new addition to the Mapp and Lucia canon, based on the immortal characters first created by E.F.
Benson. Perfect reading for followers of Benson's original novels and sure to be equally loved by new fans, this is a pitch-perfect and deliciously enjoyable social satire of an England long gone but not forgotten.
Information
Format: Paperback
Pages: 240 pages
Publisher: Elliott & Thompson Limited
Publication Date: 29/03/2012
Category: Classic fiction (pre c 1945)
ISBN: 9781907642517
Free Home Delivery
on all orders
Pick up orders
from local bookshops
Reviews
Showing 1 - 1 of 1 reviews.
Review by GeraniumCat
16/06/2015
It seems very clear to me that Guy Fraser-Sampson has caught both the tone and the spirit of Tilling and its denizens (I find myself much inclined to think outside my usual vocabulary and possibly even to essay un po italiano) – I was already laughing while still on the Introduction. The story begins with Lucia, having made some money on the stockmarket, deciding that Georgie should choose the holiday of his desires (and then, perhaps, he will appreciate her properly). What she doesn't intend is that Georgie should consult his old friend from their Riseholme days, Olga Bracely, and come up with a plan which will avoid days spent trailing in Lucia's wake around museums and other cultural delights: they will go to the Italian resort of Bellagio, where there is nothing very much except a hotel, although one beautifully situated on the shores of Lake Como. She doesn't intend, too, that not only Olga, but horror of horrors! the Mapp-Flints should also head for Bellagio, although the reader, of course, knows that this is inevitable the moment the tickets are booked. If Lucia had realised that the Mapp-Flints were going to encroach on her holiday, she would no doubt have changed her plans at the last minute, but Elizabeth, knowing this, makes sure that Lucia's arrival at the hotel will be accompanied by the "joy unconfined" of finding Elizabeth and Major Benjy already in residence. A battle for supremacy immediately ensues and any weapon -- foreign royalty, enormous Bugattis, famous Italians, sundry countesses -- is fair game.Lucia, who said elsewhere, and no doubt believed as she uttered it, "Nobody shall be able to say of me that I caused splits and dissensions. 'One and all,' as you know, is my favourite motto" sails through the pages with all her usual aplomb, always emerging unscathed from Elizabeth's attempts at sabotage. She is more vulnerable, though she chooses to look on it simply with mild disapproval, to Georgie's friendship with Olga -- they share a sense of humour, something which is singularly lacking in the divine Lucia. Indeed, she sails close to disaster, prepared to gamble both wealth and marriage on her conviction that she is always in the right. But the Wall Street Crash looms and she may, this time, have pushed Georgie too far. Will she survive?The major departure from E.F. Benson is that Guy Fraser-Sampson allows the real world to intervene -- it's hard to imagine that Benson, who managed never to mention the war that had torn Europe apart, would have tackled the impending financial crisis head on, or introduced the notorious Gabriele D'Annunzio as a character (to great effect). As with Benson, though, lightness of touch is all.This lovely bit of froth is a worthy addition to the Mapp and Lucia canon, just what you need on a winter weekend to transport you to the shores of Lake Como where you can sit and sip a prosecco (or a Negroni) on the terrace. Delicious!