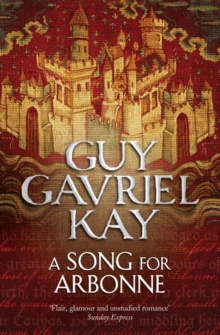 A Song for Arbonne
Paperback
Description
Based on the troubadour culture that rose in Provence during the High Middle Ages, this panoramic, absorbing novel beautifully creates an alternate version of the medieval world. The matriarchal, cultured land of Arbonne is rent by a feud between its two most powerful dukes, the noble troubador Bertran de Talair and Urte de Miraval, over long-dead Aelis, lover of one, wife of the other and once heir to the country's throne. To the north lies militaristic Gorhaut, whose inhabitants worship the militant god Corannos and are ruled by corrupt, womanizing King Ademar.
His chief advisor, the high priest of Corannos, is determined to irradicate the worship of a female deity, whose followers live to the south. Into this cauldron of brewing disaster comes the mysterious Gorhaut mercenary Blaise, who takes service with Bertran and averts an attempt on his life.
The revelation of Blaise's lineage and a claim for sanctuary by his sister-in-law sets the stage for a brutal clash between the two cultures.
Intertwined is the tale of a young woman troubadour whose role suggests the sweep of the drama to come.
Information
Format: Paperback
Pages: 640 pages
Publisher: HarperCollins Publishers
Publication Date: 01/02/2011
Category: Fantasy
ISBN: 9780007342051
Free Home Delivery
on all orders
Pick up orders
from local bookshops
Reviews
Showing 1 - 2 of 2 reviews.
Review by xicanti
16/06/2015
I'm still a little unsure of how I felt about this book. Initially, I found it lacking in comparison to <i>Lord of Emperors</i>, my favourite work by Kay; however, once I was able to put aside my biases, I found that I enjoyed it on its own merits. The world is nicely drawn; I found it easy to slip into and become involved with. The musical theme carries through very well. The characters are individual and relatable. There were moments when the book was a pure pleasure to read.And yet, I really felt that I wanted a bit more depth to it all. It seemed, at times, as though Kay was only skimming the surface. I wanted a few more telling moments, scenes that opened the story up and allowed the reader to really dive into what was going on underneath it all. I liked the characters, but I wanted more insight into them. I wished that certain revelations had been built up a bit more, with a few more clues planted early on. I can see some of the groundwork Kay laid, but I don't think it's as masterfully done here as in some of his other novels.But despite all this, I found it quite satisfying overall and was sorry to see it end. I think this is one of those books that I'll enjoy much more the second time through, when I know what's coming and have some prior knowledge of the characters.
Review by zjakkelien
16/06/2015
This book is truly masterful. Beautifully written as only Guy Gavriel Kay can, <b>A song for Arbonne</b> tells the story of a conflict between Arbonne and its neighbor, Gorhaut. What I love is that although the conflict is the subject of the book, what it really is about is people. In a way, the conflict is exacerbated by the relations between several of the people. I'll admit that I found it easy to put this book away, but on the other hand, I kept returning to it. It has a great atmosphere and world, and my heart sank and soared with the characters. There may have been little magic in the story, the book itself and the writing brimmed with it.