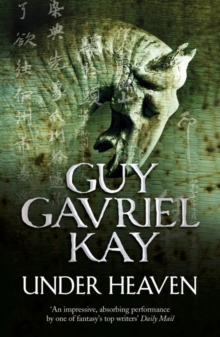 Description
An epic historical adventure set in an alternate 8th century China, from the author of the 2008 World Fantasy winner, Ysabel.
Under Heaven is a novel of heroes, assassins, concubines and emperors set against a majestic and unforgiving landscape.Honour is beyond measureBut its price may be an empire...For two years Shen Tai has mourned his celebrated father and lived like a hermit beyond the borders of the Kitan Empire.
There, by a mountain lake, the bones of the soldiers killed in great battles between the Kitai and the Tagurans lie unburied and their wailing ghosts strike terror into the living.Tai has laboured alone, laying to rest the mingled dead of both empires, until a letter arrives.
It contains the promise of a poisoned chalice: Tai will be given two hundred and fifty Sardian horses by the Tagurans, legendary steeds from the far west, as a reward for his courage and piety.Now, Tai must try to return alive from solitude to a glittering, dangerous court.
For to give a man even one of the famed Sardians is to honour him greatly; to give him so many is a reward which would overwhelm an emperor, and could be Tai's death warrant.
Information
Format: Paperback
Pages: 576 pages
Publisher: HarperCollins Publishers
Publication Date: 01/02/2011
Category: Fantasy
ISBN: 9780007342105
Free Home Delivery
on all orders
Pick up orders
from local bookshops
Reviews
Showing 1 - 4 of 4 reviews.
Review by clfisha
16/06/2015
[Under Heaven] by Guy Gavriel Kay So so historical fantasy(Average) Some parts of this story are striking and beautiful, mostly though I just floated through in an oddly detached way noticing it's many faults. So whilst my caveat is that I sort of enjoyed it, I cannot recommend it to anyone but interested GGK fans. I think it's mostly the theme of fate that detached me from the story. This is a tale set firmly in the past and the foreshadowing is heavy, the outcome is set. There is very little else to make you care what happens and it's like watching very ornate, pretty Chinese wallpaper. Maybe it also doesn't help that the main characters are only minor figures in a chaotic and turbulent period of history, the ones on the sidelines not in the spotlight. Or maybe it's because I never really got a sense of place, a must in historical or fantasy book. That could be that because this is a field well trod, in films and books and I expect something more, something different. Of course it really didn't help that the main protagonist seemed slightly anachronistic at times (and dull), very western and just stating that he cannot play political games does not make it feel true. To be honest after the lovely beginning I just found most characters dull, only the female characters occasionally roused my empathy.There were other problems. Stylistically I think it fell down; how many times does an author need to repeat plot points or themes? Repetition of phrases is something GGk used to use to good effect so why it fell down here I don't understand, but being told again and again (not shown but told) that certain things such as the Chinese fear wolves is something I didn't need and found dull. I also disliked the usually justified use of jumping, fleetingly, to a small unimportant character. This usually works to good effect expanding the view point and adding to the drama, but again here I didn't understand the point. Why for example did we jump into the young prostitute's head for 2 pages? I didn't gain any knowledge or see her again? At least I don't remember.
Review by DeltaQueen50
27/08/2015
In Under Heaven Guy Gavriel Kay once again shows just how good he is at epic storytelling. This is a fantasized version of China's 8th century Tang Dynasty, and from the referrals to the one moon it is obviously set on a different world that his usual two moon stories are. From the opening chapter the reader is swept along following the story of Shen Tai, and to a lesser extent that of his sister Shen Li-Mei while around them swirls the treachery, duplicity and ultimately the open rebellion of the powerful and ambitious.Using the fictionalized country of Kitai, with its complicated traditions, values and beliefs, as a backdrop, the author introduces and brings into the story his well-drawn, fully realized characters that are constantly surprising the reader as they evolve. I didn't always agree with the characters choices, but every move was well thought out and made sense in the context of the story. Honor, duty, and patriotism were strong motivators. Even the most secondary of characters had depths and motives that added to the intensity of the book. Under Heaven is a story that tries to find a balance between sheer adventure, political intrigue and romantic tension and for the most part it succeeds. The one area that I found a little lacking was the romance aspect, while the story unfolded in a believable way, I was hoping for some different outcomes. So although this is not my favorite book by this author, it is still a beautifully written, multi-layered epic that I enjoyed immensely.
Review by fiverivers
16/06/2015
Under Heaven, by Canadian author, Guy Gavriel Kay, presents an alternate world story based on 8th century Tang Dynasty China. As with all Kay's novels, he lovingly creates characters and a world that subtly and deftly draws in the reader, fitting together emotional and environmental detail that is lush without being overblown. His recurrent themes of examining the balance of power against the simplicity of ordinary lives once again plays a part in this novel. Yet somehow Kay manages to keep that theme fresh. Unlike Last Light of the Sun, which has a breathless pace to it, Under Heaven carries a languid, slow momentum, almost Hardyian in execution, where the land and its forces dictate the culture and actions of people. There is the feeling of grandeur to this novel, of ancient forces at work, and as a counterpoint to that Kay examines the sometimes ambiguous nature of kindness and cruelty. As an excellent escapist read you will find Under Heaven compelling and satisfying. As an excellent work of literature you will find Under Heaven memorable and worthy of revisitation.
Review by AHS-Wolfy
27/08/2015
Shen Tai has spent the majority of the mourning period for his celebrated father laying to rest the ghosts of dead soldiers who fought in the last war between Kitai and the neighbouring Tagurans. Both sides of the former conflict ensure that he has enough provisions to sustain him during this solitary task and it is on one such supply run that a letter arrives that will shape his destiny and send ripples through the Kitan empire as the news spreads ahead of his return. A gift from the former princess of KItai and now royal consort of Tagur to honour his service to the dead. One Sardian horse would greatly reward a man, four or five would exalt him and possibly earn him a death sentence from jealous rivals but the gift of 250 of the magnificent animals is unprecedented. A stipulation that he must collect the horses in person may just be enough to keep him alive when he returns home and decide how he can deal with this gift. Tai's new found wealth necessitates a visit to the imperial court where much has changed in his absence. Political intrigue abounds with the new prime minister seemingly at loggerheads with a favoured general. How will Tai's arrival with the prospect of so many horses to dispose of upset the balance of power?This book is set in an alternate version of China around the time of the T'ang Dynasty and includes elements of fantasy and the supernatural throughout. Shamanistic rites, fox spirits and ghostly occurrences all feed into the story and drive the narrative to varying degrees. A wonderful lead character supported ably by a Kanlin warrior, Wei Song, who accompanies him on his journey as his newly acquired bodyguard and Sima Zian, the Banished Immortal and foremost poet of the age, who tags along as it promises to be an interesting trip. It's not just well-rounded characters that draw you in as the setting which they inhabit is also vividly portrayed. From the remote valley at the outset of the story to the sumptuous and slow moving life at the imperial court of Xinan in Kitai and the steppes of a neighbouring country. The only slight let down was the exposition heavy conclusion as the author uses historians to wrap up what happened to all the major players that appeared throughout the tale. It jars a little with the rest of the book which is very much character driven but it is still an enchanting read.