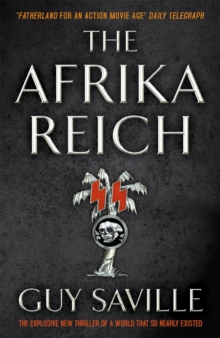 The Afrika Reich
Paperback
Description
What if Dunkirk had been the end of Britain's war against the Nazis?'Fatherland for an action movie age.' Daily Telegraph1952. It is more than a decade since humiliation at Dunkirk brought an end to Britain's war and the beginning of an uneasy peace with Hitler.In Africa, the swastika flies from the Sahara to the Indian Ocean.
Gleaming autobahns bisect the jungle, jet fighters patrol the skies.
The brutal presence of the SS is visible everywhere.
Now, however, the demonic plans of Walter Hochburg - architect of Nazi Africa - threaten Britain's ailing colonies.In England, ex-mercenary Burton Cole is offered one last contract.
Burton jumps at the chance to settle an old score with Hochburg, despite the protests of the woman he loves.
If Burton fails, unimaginable horrors will be unleashed in Africa.
No one - black or white - will be spared.But when his mission turns to disaster, Burton is forced to flee for his life.
His flight takes him from the unholy killing ground of Kongo to SS slave camps and on to war-torn Angola, finally reaching its thrilling climax in a conspiracy that leads to the dark heart of the Afrika Reich itself.Guy Saville combines meticulous research with edge-of-the seat suspense to produce a superb novel of alternate history.
Information
Format: Paperback
Pages: 448 pages, map
Publisher: Hodder & Stoughton General Division
Publication Date: 01/09/2011
Category: Thriller / suspense
ISBN: 9781444710663
Free Home Delivery
on all orders
Pick up orders
from local bookshops
Reviews
Showing 1 - 3 of 3 reviews.
Review by fist
16/06/2015
This is an adrenalin-filled page turner about an assassination attempt in SS-dominated Africa (it is set in an alternative version of history whereby the UK was defeated at Dunkirk, and the two countries split Africa between them). The first 200 pages or so are a fantastic read, and you can just picture Jason Statham starring in the movie version. After that, the pace slows as the author scrambles to finish all the loose ends. The violence, never lacking in this book, descends into almost pornographic gore, and the male characters become full action-movie caricatures (there are no well-developed or credible female characters in this book). Still, a very novel and interesting take on what might have been if the Nazis had won, and if watchting late-night UFC is your guilty pleasure, you're certain to like this book too.
Review by aadyer
16/06/2015
Whilst having several reviews stating that this was the new "Fatherland", I would disagree. This is a very poorly written, abysmally plotted thriller, set in a 1950's Africa, where Hitler had successfully managed to persuade the British to sue for peace after Dunkirk. It follows the poorly drawn out mercenaries from one action & highly unrealistic encounter to the next. The amount of damage that these people sustain on this mission is ludicrous & highly unbelievable. It shatters all pretence at credibility & makes the whole story difficult to believe. Despite some references at the back of the book, claiming to be drawn from German sources on what they had planned to do with Africa, this feels poorly drawn out. Poor. Avoid, even for holiday reading.
Review by Helenliz
16/06/2015
This will contain spoilers. Not that I care; you'll not want to read it after you've read this anyway. Oh dear. I'm not sure why I finished this, it certainly wasn't because I cared about Burton Cole. I was mildly intrigued to know what the next improbable hurdle between Burton and his Quince farm was going to be, because just as you think he'll manage to get away something else manages to intervene. Set in a fictional Africa that is under the heel of the Nazis after a peace made after Dunkirk this seems to be an excuse to come up with some of the most distasteful racism, fanatical views and unnecessary violence that can be imagined. Then there are the stereotypical characters, all red blooded, honourable and battle scarred on the Allied side and despicable zealots on the German side. Mostly men, apart from the odd woman waiting at home. I was left with the feeling that Burton was going to get back, regardless of what happened, because the number of times he was missed by a hail of bullets, or they sang past his ear; he had an air of inviolability about him. I mean I haven't fired a rifle since I was in my teens, but I reckon even I could have hit him, the number of times he seemed to be stood still while a whole troop faced him down. As did Patrick until his lucky pipe broke. Then predictably, it all went a bit pear shaped. It had a fair number of thing that were left unexplained. How come Burton immediately assumes the man he's asked to kill is the same man he remembers from his childhood, but had assumed was dead. Where was the logic in that. And to leave the same man in the ocean, on a sinking boat, but known to be a strong swimmer? It wasn't written in great prose either. A lot of short sharp sentences that bring an action sequence to an abrupt halt. And some strange use of adjectives. Not sure that smoke grumbles... It was so bad that it seemed to pass through awful to some sort of bizzare place when I was going to get to the end, just to find out how bad it actually was. And it's left in some sort of unresolved place that leaves you no resolution. He doesn't get home, he doesn't have a showdown with his mistress' husband (yes, i saw that coming from fairly early on) he doesn't find the truth he seeks, nor kill the man he meant to. And the whole plan of which the assassination was part doesn't really come off either. If this is setting up a sequel, I won't be reading it. And I suggest you don't bother either.