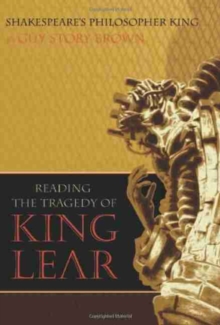 Shakespeare's Philosopher King : Reading the Tragedy of King Lear
Hardback
Description
This title digs into Shakespeare's darkest, most-important play. ""The Tragedy of King Lear"" precedes Cymbeline, King of Britain, as the earliest of Shakespeare's English history plays in the sense that it represents a primordial age when the 'sceptered isle' of 'England' was hardly yet even clearly differentiated from 'Britain'.
The decay and fall of the world is visible, i.e., is originally conceivable as a subject, only from a vantage that is in some sense not itself limited to error or fault.
This resolution cannot be a thesis that is merely proved from outside but a vantage that emerges in a careful reading of the 1623 folio from the beginning that is alert both to the whole of Shakespeare's corpus and its cultural context.
The reading shows ""The Tragedy of King Lear"" to be a broadly Thomistic portrayal of the problem and reality of kingship, in which there emerges an increasingly explicit and profound - and entirely unsentimental - Christianity that seems as much Augustinian as Thomistic.
Information
Format: Hardback
Pages: index, bibliography
Publisher: Mercer University Press
Publication Date: 15/10/2010
Category: Shakespeare studies & criticism
ISBN: 9780881461855
Also by Guy Story Brown