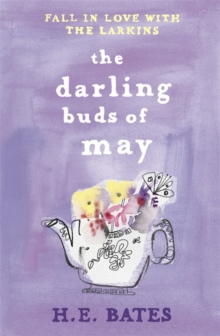 The Darling Buds of May
Paperback
Description
`Home looks nice. Allus does though, don't it? Perfick'And so the Larkins - Pop, Ma, Mariette, Zinnia, Petunia, Primrose, Victoria and Montgomery - return from an outing for fish and chips and ice cream one May evening.
There, amid the rustic charms of home, they discover a visitor: one Cedric Charlton, Her Majesty's inspector of taxes.Mr Charlton is visiting to find out why junk-dealer Pop hasn't paid his tax - but nothing's that simple at the Larkins.
Mariette takes a shine to `Charley' - as Pop calls him - and before long the family have introduced the uncomplaining inspector to the delights of country living: the lusty scents of wild flowers, the pleasures of a bottle of Dragon's Blood, cold cream dribbled over a bowl of strawberries and hot, hot summer nights. In fact, soon Charley can't see any reason to return to the office at all ...
Information
Format: Paperback
Pages: 144 pages
Publisher: Penguin Books Ltd
Publication Date: 30/11/2006
ISBN: 9780141029672
Other Formats
Paperback from £9.99
CD-Audio from £13.05
Free Home Delivery
on all orders
Pick up orders
from local bookshops
Reviews
Showing 1 - 1 of 1 reviews.
Review by Bridgey
27/08/2015
The Darling Buds of May - H E Bates ***Like many people I was first introduced to the Larkin family through the TV drama with the brilliant David Jason, it was one of those programs I remember from my childhood and I never realised that it was taken from a group of novels. We follow the trials and tribulations of the ever increasing family as they go about their day to day lives. Anyone familiar with the ITV adaptation will already know most of the story, very little has been changed from the original text. The only major difference is the overt sexuality present within the novels pages, in particular with the Larkin's eldest daughter Mariette, who is not so sweet and innocent as I seem remember.....Like most books written in the same period the novel portrays a post war idyllic life, where days can be filled with strawberry picking, eating, meadow walks and more eating. The Larkin world is changed when a good natured, slightly drippy tax inspector calls upon them to query the lack of tax returns, he soon falls for Mariette and encouraged by Ma and Pa spends an ever increasing amount of time at the farm, slowly changing his whole outlook on the world outside his office.There are two ways of viewing this book and each will influence your outlook on the Larkin brood. On one hand we have the jolly local farmer, someone that can always be relied upon, a steadfast member of the community that although a little rough around the edges manages to charm even his most prudish neighbours. A bit of a rogue that isn't afraid to bend the rules but all's well that ends well. On the other hand we have a man who is tax avoider, possibly a bit of a sex pest and generally without much of a conscience (especially if it means his family are kept happy). But whatever your opinion, there is something in the book for nearly everyone. I have only given 3 stars because there were a few things that really got on my nerves. The way 'Pa' speaks in dialect really grates on me. The odd 'Perfic' is fine, but I have always hated reading books that have characters speaking in this way. It just annoys me. The other reason was the constant reference to food, and what they were going eat, what they had eaten previously, what they would like to eat and currently eating. Sometimes it read like a cookery book.So did I enjoy the book? I suppose in parts I did, but not enough that I would really be able to recommend it. This is the first book in a series and I am unsure if I will ever bother to seek out the rest. Having said that, there is a small part of me that wants to know what else the Larkin family may have in store for them.... so you never know.
Also in the The Larkin Family Series series