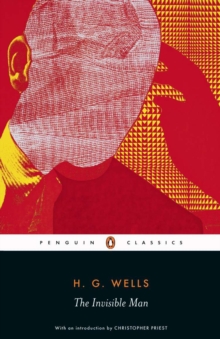 The Invisible Man
Paperback
Description
Depicting one man's transformation and descent into brutality, H.G.
Wells's The Invisible Man is a riveting exploration of science's power to corrupt.
This Penguin Classics edition is edited by Patrick Parrinder with notes by Andy Sawyer and an introduction by Christopher Priest, author of The Prestige.With his face swaddled in bandages, his eyes hidden behind dark glasses and his hands covered even indoors, Griffin - the new guest at The Coach and Horses - Is at first assumed to be a shy accident-victim.
But the true reason for his disguise is far more chilling: he has developed a process that has made him invisible, and is locked in a struggle to discover the antidote.
Forced from the village and driven to murder, he seeks the aid of his old friend Kemp.
The horror of his fate has affected his mind, however - and when Kemp refuses to help, Griffin resolves to wreak his revenge.This edition includes a full biographical essay on Wells, a further reading list and detailed notes on the text.
In his introduction, Christopher Priest considers the novel's impact upon modern literature.H.G.
Wells (1866-1946) was a professional writer and journalist.
Wells's prophetic imagination was first displayed in pioneering works of science fiction, but later he became an apostle of socialism, science and progress.
Among his most popular works are The Time Machine (1895); The Island of Doctor Moreau (1896), filmed with Bela Lugosi in 1932, and again in 1996 with Marlon Brando; The Invisible Man (1897); The War of the Worlds (1898), which was the subject of an Orson Welles radio adaptation that caused mass panic when it was broadcast, and a 2005 film directed by Stephen Spielberg; and The First Men in the Moon (1901), which predicted the first lunar landings.If you enjoyed The Invisible Man, you might like Wells's The Island of Doctor Moreau, also available in Penguin Classics.
Information
Format: Paperback
Pages: 208 pages
Publisher: Penguin Books Ltd
Publication Date: 31/03/2005
Category: Classic fiction (pre c 1945)
ISBN: 9780141439983
Other Formats
Paperback from £2.50
Hardback from £7.05
EPUB from £1.36
Free Home Delivery
on all orders
Pick up orders
from local bookshops
Reviews
Showing 1 - 5 of 6 reviews.
Previous | Next
Review by soylentgreen23
16/06/2015
Most of the Wells canon carries with it a double, or second, meaning. Here, the surface story of a scientist who succeeds in giving himself a negative refractive index, plays host to two other interpretations: one, the scientific urge, and the results of experimentation without moral or ethical umpires; and two, the sense that without societal restraints, man can become beastly.
Review by john257hopper
16/06/2015
Definitely my least favourite of the author's four main SF novels. The theme of the misguided scientist corrupted by his own discovery is handled much better in the Island of Dr Moreau. Much of this novel struck me as overly comedic, indeed rather slapstick. The other characters aside from the eponymous one are unmemorable ciphers. A disappointment.
Review by Blenny
16/06/2015
I didn't expect this book to be as good as it was. I expected it to be a bit turgid but found it was quite the opposite, funny even.There is a definite dark humour running throughout this novel and I surprised myself by bursting into laughter (rather embarrassingly) on the train at one point! I liked the way that Wells throws in some of the problems that could come with being invisible, such as feeling the cold, can still be heard and smelt, walked into by people, can't travel far as no clothes can be worn especially regarding the feet, can't eat much as food can be seen in the body etc. The aspirations of Griffin's character are similar to those of Victor Frankenstein's as both tirelessly and desperately work to further science and their own glory, only to create chaos, regret and sometimes death. Such is the legacy of man and human nature and H.G Wells, very much ahead of his time, knew it.
Review by michaeldwebb
16/06/2015
I only really knew the story from the TV series I watched as a kid. This was much darker. It just about stands up as a story rather than historical artefact now, and if you step back a bit you can see how brilliant the idea of an invisible man must have been at the time. It's only short, so well worth an ebook read.
Review by theboylatham
16/06/2015
Six out of ten.
A mysterious stranger wrapped in bandages from head to toe arrives in town, and mysterious, terrible things begin happening. No one knows if he's responsible until he becomes invisible . . . right before their eyes.