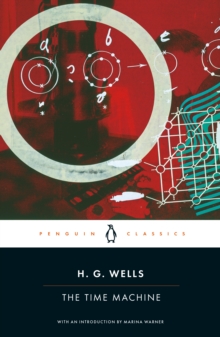 Description
A seminal and hugely imaginative work of early science fiction, H.G.
Wells's The Time Machine is the first and greatest modern portrayal of time-travel, edited by Patrick Parrinder with an introduction by Marina Warner and notes by Steven McLean in Penguin Classics.When a Victorian scientist propels himself into the year 802,701 AD, he is initially delighted to find that suffering has been replaced by beauty, contentment and peace.
Entranced at first by the Eloi, an elfin species descended from man, he soon realises that this beautiful people are simply remnants of a once-great culture - now weak and childishly afraid of the dark.
But they have every reason to be afraid: in deep tunnels beneath their paradise lurks another race descended from humanity - the sinister Morlocks. And when the scientist's time machine vanishes, it becomes clear he must search these tunnels, if he is ever to return to his own era.This edition includes a full biographical essay on Wells, a further reading list and detailed notes.
Marina Warner's introduction considers Wells's development of the 'scientific romance' and places the novel in the context of its times.H.G.
Wells (1866-1946) was a professional writer and journalist.
Wells's prophetic imagination was first displayed in pioneering works of science fiction, but later he became an apostle of socialism, science and progress.
Among his most popular works are The Time Machine (1895); The Island of Doctor Moreau (1896), filmed with Bela Lugosi in 1932, and again in 1996 with Marlon Brando; The Invisible Man (1897); The War of the Worlds (1898), which was the subject of an Orson Welles radio adaptation that caused mass panic when it was broadcast, and a 2005 film directed by Stephen Spielberg; and The First Men in the Moon (1901), which predicted the first lunar landings.If you enjoyed The Time Machine, you might like Jules Verne's Journey to the Centre of the Earth, also available in Penguin Classics.
Information
Format: EPUB
Pages: 144 pages
Publisher: Penguin Books Ltd
Publication Date: 31/03/2005
Category: Science fiction
ISBN: 9780141439976
Other Formats
Paperback from £2.50
Hardback from £6.15
eAudiobook MP3 from £7.20
Mixed media product from £10.14
EPUB from £4.58
Free Home Delivery
on all orders
Pick up orders
from local bookshops
Reviews
Showing 1 - 5 of 20 reviews.
Previous | Next
Review by soylentgreen23
16/06/2015
A book that works on level upon level upon level. The first is the obvious - of the horror felt by the traveller as he reaches a future in which hope has been replaced with mind-dulling comfort and ease. Culture has been forgotten; the dark side of the world is precisely that, as if there is no grey: it lives underground.On another level, this is the story of repression. The Eloi, the people who live in the light and merrily go from day to day, are really repressed, and in turn repress, those that live underground, the dreadful Morlocks. Wisely, Wells leaves much of the moralising to the reader.
Review by numbert
16/06/2015
I literally finished this book 20 minits ago (what i had to watch part of the colts game) and I was blown away by it. It had some of the most thought provocing topics i have even seen in a book. It brings up issues like time travle, the fate of man, government, perfect society all in an incredably exciteing science fiction format. It does have some high level reading words so have a dictioary by your side for this one. I highly reccomend it
Review by agis
16/06/2015
The first use of a Time Machine in literature, H.G. Wells' "The Time Machine" is also the first of his scientific romances. After a careful setup, the never-named "Time Traveler" narrates his journey 800,000 years into the future. The bulk of the novel follows this one journey - his time in a far-future where the human race has split in two, which he calls the "Eloi" and "Morlocks".Wells' setup and narration are effective, and the adventure tale keeps the story moving, but it's heavily flawed. The problem is the "Eloi" and "Morlocks" themselves; the former are the descendants of the aristocratic upper class, and the latter are the descendants of the lower class. And they're unconvincing. The Eloi are weak, unintelligent waifs; the Morlocks are nothing more than monsters that prey on them. This simply doesn't work; both are far too exaggerated to give Wells' point about class and culture a good impact.
Review by TheBooknerd
16/06/2015
Rather blah, really. I can imagine how, in its time, this was a remarkable book; however, it's not a very good story. I liked 'Island of Dr. Moreau' better.
Review by NeverStopTrying
16/06/2015
Before I actually read this book, I assumed that I had read it as a child, but now I am less sure. Perhaps I only saw the movie and knew the story line because the story line is that well known. Not certain. There were certainly ways in which it felt like a new read. At any rate, given how long ago it was written and given that I did know the story line, I assumed I would not enjoy the read all that much. I was wrong.To begin with, my copy is a Penguin, which means it had a readable and helpful Introduction and useful footnotes. The Introduction grounded me in Wells' context: His visions of our technical future, many details of which have proven true, although not those in this story, as yet, predate both radio and the airplane. So his imagination was impressive. On the other hand, he lived well into the 20th Century, so he was not so "pre-historic" as I thought of him being. Acutely, he saw future history as being "a race between education and catastrophe". Finally, there were many ways he was truly a man of his time, as well, grappling, as so many of his time did, with the moral and ethical implications of Darwin's recently published Origin of Species.I am in some ways an unforgiving or narrow-minded reader of fiction: I look for character development, plot and emotional grab. These attributes are not what make this book important. In my reading of the text itself, I found that the narrative contains more intellectual speculation than dramatic action, no character development and little or no depiction of meaningful relationships. For a whole novel, that would have been a bit much; for a novella, it did not bother me, especially as I was reading for historical interest and not, primarily, for fun. The language is mildly Victorian-verbose, but not too badly so. I also found that knowing the story line ahead of time freed me to appreciate the process of reading it. I found the ideas complex enough that I would consider re-reading it sometime.The rating is in context of its being a classic, not in comparison with contemporary R&R reads.