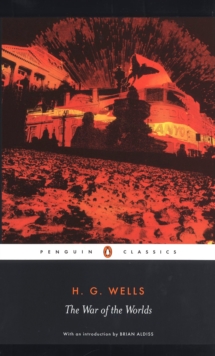 The War of the Worlds
Paperback
Description
The first modern tale of alien invasion, H.G. Wells's The War of the Worlds remains one of the most influential science fiction novels ever published.
This Penguin Classics edition is edited by Patrick Parrinder with an introduction by Brian Aldiss, author of Hothouse, and notes by Andy Sawyer.The night after a shooting star is seen streaking through the sky from Mars, a cylinder is discovered on Horsell Common in London.
At first, naive locals approach the cylinder armed just with a white flag - only to be quickly killed by an all-destroying heat-ray, as terrifying tentacled invaders emerge.
Soon the whole of human civilisation is under threat, as powerful Martians build gigantic killing machines, destroy all in their path with black gas and burning rays, and feast on the warm blood of trapped, still-living human prey.
The forces of the Earth, however, may prove harder to beat than they at first appear.The War of the Worlds has been the subject of countless adaptations, including an Orson Welles radio drama which caused mass panic when it was broadcast, with listeners confusing it for a news broadcast heralding alien invasion; a musical version by Jeff Wayne; and, most recently, Steven Spielberg's 2005 film version, starring Tom Cruise.
This Penguin Classics edition includes a full biographical essay on Wells, a further reading list and detailed notes.
The introduction, by Brian Aldiss, considers the novel's view of religion and society.
H.G. Wells (1866-1946) was a professional writer and journalist.
Among his most popular works are The Time Machine (1895); The Island of Doctor Moreau (1896), filmed with Bela Lugosi in 1932, and again in 1996 with Marlon Brando; The Invisible Man (1897); The War of the Worlds (1898); and The First Men in the Moon (1901), which predicted the first lunar landings.If you enjoyed The War of the Worlds, you might like Wells's The Time Machine, also available in Penguin Classics.
Information
Format: Paperback
Pages: 240 pages
Publisher: Penguin Books Ltd
Publication Date: 31/03/2005
Category: Classic science fiction
ISBN: 9780141441030
Other Formats
Paperback from £2.50
Hardback from £6.15
EPUB from £4.58
CD-Audio from £9.95
Free Home Delivery
on all orders
Pick up orders
from local bookshops
Reviews
Showing 1 - 5 of 13 reviews.
Previous | Next
Review by MeredithYvonne
16/06/2015
Skip the movie read the book. Set in London (not NY) at the turn of the century (not modern day), it's a story of one man's quest to survive and find his wife after aliens invade and start wiping out the human race. It's a quick read that makes you think a little about the "what about aliens" question.
Review by slansell
16/06/2015
A very scary book for me and i've been de-sensitised by a childhood full of freddie kruger so how people felt at the turn of the century reading this i can't imagine. Well written apart from the fast ending, a must read before watching that travesty of a film.
Review by soylentgreen23
16/06/2015
Not America, as in the films, but Aldershot and Woking - these are the places the aliens come to land and to rule humanity. Wells' work is breathlessly exciting, but it is worth considering Lindqvist's suggestions in "Exterminate all the Brutes" - is it possible that the war is a metaphor for empire in Africa? Would that then make us the alien horde, spreading death and destruction with every step taken?
Review by JustAGirl
16/06/2015
One of the great classic science fiction novels it's still a great read although to modern eyes it is often unintentionally humourous, partly because of the bucolic setting and partly because every so often you tread a phrase that is quoted word for word in Jeff Waynes' musical and it throws you a bit. But the science fiction hasn't dated at all and this remains a classic story of an alien invasion and the description of the post-apocalyptic world is still chilling.
Review by danimak
16/06/2015
One of the greatest science fiction novels of all time.