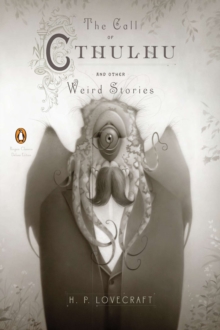 The Call of Cthulhu and Other Weird Stories (Penguin Classics Deluxe Edition)
Paperback
Description
A definitive collection of stories from the unrivaled master of twentieth-century horror in a Penguin Classics Deluxe edition with cover art by Travis Louie.
Frequently imitated and widely influential, Howard Philips Lovecraft reinvented the horror genre in the 1920s, discarding ghosts and witches and instead envisioning mankind as a tiny outpost of dwindling sanity in a chaotic and malevolent universe.
S. T. Joshi, Lovecraft's preeminent interpreter, presents a selection of the master's fiction, from the early tales of nightmares and madness such as "The Outsider" to the overpowering cosmic terror of "The Call of Cthulhu." More than just a collection of terrifying tales, this volume reveals the development of Lovecraft's mesmerizing narrative style and establishes him as a canonical- and visionary-American writer.
Information
Format: Paperback
Pages: 448 pages
Publisher: Penguin Books Ltd
Publication Date: 27/09/2011
Category: Horror & ghost stories
ISBN: 9780143106487
Free Home Delivery
on all orders
Pick up orders
from local bookshops
Reviews
Showing 1 - 3 of 3 reviews.
Review by billiecat
16/06/2015
I read Lovecraft as a teen in the late Seventies and early Eighties, and even then I noticed his racism. So although it was worse than I recalled when I picked this book up at a sale for old times sake, I wasn't surprised. The reader of Lovecraft may feel compensated for his racism by the depth of imagination, but, given the frequency and virulence of the racism, this second read of some of his "greatest works" has convinced me the compensation is not quite enough. Still, what really turned me off was the failure of this edition's editor to address it forthrightly. Why use a footnote when the offensive name of the pet cat in the story "The Rats in the Walls" is dropped like a turd in the middle of a (frankly not very good) short story, just to say Lovecraft burdened his own cat with the same name, and not even discuss the N-word in the room? Why doesn't the introduction or the notes address the obvious racist undertones in "The Call of Cthullhu" with its constant reference to "degenerate half castes," or the treatment of Hispanics in "Cool Air" or the straight up racism and fear of miscegenation in "Arthur Jermyn"? And this editor is not some Lovecraftian tourist, S.T. Joshi has written a biography of the man which he modestly refers to as "definitive" in the notes. If that definitive biography is as studious in ignoring the blatant racism of its subject as the notes and introduction in this volume is, I would have to say there is great room for more definition here. In the end, the notes were rendered useless to me by this failure - if Joshi tiptoes around racism as plain as the nose on Lovecraft's face, I had to assume (and in fact felt) that his additions to the work was merest persiflage. In the end, I was able to get a nostalgic kick from retracing my teen self's steps, although my more mature reader self has to wonder why I was so into this stuff, and how I even then could excuse the nasty racism. But that may just the failure of callow youth. What Joshi's excuse is, I have no clue, and his notes and introduction shed no light.
Review by A_Reader_of_Fictions
16/06/2015
The short stories of Lovecraft, at least the ones in this anthology, all seem to take place in the same universe. The stories have a lot in common with another. For one thing, they all focus on some sort of mythical monster/god/evil creation of a mad scientist / reader of the Necronomicon. Also, if one were narrating them, it would be really difficult to resist the urge to end the telling of each with DUN-DUN-DUN.<br/><br/>At first, I really was not feeling this at all. Lovecraft's writing is very flowery and ornate, which I felt did not lend itself particularly well to tales of horror. All of the extra information and verbiage lessened any sense of urgency that the stories were trying to convey. As I became more familiar with his narrative style and realized the connections underlying each story, I found myself coming to enjoy the stories.<br/><br/>These tales are often hugely unsurprising in their final twists. The plot lines herein will be familiar to most people who have ever watched a horror film or read a horror story. At first, this irritated me, but this too turned to some amount of fascination when I considered that they were probably fairly original plot lines then. He may have originated some of these ideas, which is pretty cool.<br/><br/>While this will not be for everyone, I definitely think that anyone who really liked Mary Shelley's Frankenstein will adore this, as it was clearly a huge influence upon him. Plus, the cover on this edition is completely gorgeous, even if I doubt Cthulhu would actually look like that.
Review by AlCracka
16/06/2015
Cindy, you're my favorite!<br/><br/>Lovecraft can be silly, racist, and extremely purple, but he has this terrifically unique imagination: his stories feel like nothing else. And they're very enticing. There's a certain feel to his stories - a pallid green glow - a whole collection of words like "eldritch" - that feel forcefully Lovecraftian. He's a true individual. I dig him.<br/><br/>Full (if growing) list of things to make sure not to miss:<br/>PARODIES?<br/>Herbert West - Reanimator (Ha, this was a ton of fun)<br/>The Hound (also great)<br/><br/>RACISM!<br/>Horror at Red Hook (Whee!)<br/>He (Loved this one. Watch out for those Chinamen, I guess.)<br/><br/>CTHULHU<br/>Dunwich Horror<br/>At the Mountains of Madness (Fun stuff, I wrote a review elsewhere)<br/>Shadow out of Time (Kinda too long)<br/>Call of Cthulhu<br/><br/>THE REST OF IT<br/>The Case of Charles Dexter Ward<br/>The Dreams In The Witch House<br/>Colour out of Space (Great...sortof like a parable about radioactivity?)<br/>Whisperer in the Dark<br/>Shadow over Innsmouth<br/><br/>While this Penguin edition is lovely, I'm supplementing it with a cheapo Collected Works on my Kindle, for the stories I want to read that aren't in this collection.