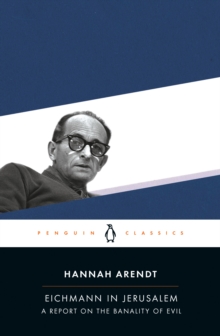 Eichmann In Jerusalem
Paperback
Description
Hannah Arendt's portrayal of the terrible consequences of blind obedience, Eichmann in Jerusalem: A Report on the Banality of Evil contains an introduction by Amos Elon in Penguin Classics.Sparking a flurry of heated debate, Hannah Arendt's authoritative and stunning report on the trial of German Nazi SS leader Adolf Eichmann first appeared as a series of articles in The New Yorker in 1963.
This revised edition includes material that came to light after the trial, as well as Arendt's postscript commenting on the controversy that arose over her book.
A major journalistic triumph by an intellectual of singular influence, Eichmann in Jerusalem is as shocking as it is informative - a meticulous and unflinching look at one of the most unsettling (and unsettled) issues of the twentieth century.Hannah Arendt (1906-1975) was for many years University Professor of Political Philosophy in the Graduate Faculty of the New School for Social Research and a Visiting Fellow of the Committee on Social Thought at the University of Chicago.
She is also the author of Eichmann in Jerusalem, On Revolution, and Between Past and Future.If you enjoyed Eichmann in Jerusalem, you might like Elie Wiesel's Night, available in Penguin Modern Classics.'Deals with the greatest problem of our time ... the problem of the human being within a modern totalitarian system'Bruno Bettelheim, The New Republic'A profound and documented analysis ...
Bound to stir our minds and trouble our consciences'Chicago Tribune
Information
Format: Paperback
Pages: 336 pages
Publisher: Penguin Books Ltd
Publication Date: 01/10/2006
Category: European history
ISBN: 9780143039884
Free Home Delivery
on all orders
Pick up orders
from local bookshops
Reviews
Showing 1 - 5 of 7 reviews.
Previous | Next
Review by HadriantheBlind
16/06/2015
Brilliant in analyses. 'Banality of evil' only occurs once or twice, and it seems to be misinterpreted - the banality of Eichman's thoughts and his blind devotion to fascism, not just the mere 'I was following orders' facade he put up.
This was a hard book to read. It took me over two weeks to read this because I kept putting the book down over and over again to scowl and shake my head and continually make wtf faces. I suppose it's because Arendt goes far to illustrate how someone could absolve themselves of responsibility because they were only following orders, because following orders means the luxury of bypassing moral reasoning, or not being involved in wrong-doing because they were not making the decisions, or even being the victim because they were made to witness or carry out decisions that were out of your hands. <br/><br/>But then I have this part of my brain just shouting 'NAZIS! EVOL! NO GET OUTS!'<br/><br/>I honestly appreciate Arendt pushing the reader into considering that rather than there being evil men who did evil deeds, there were pen-pushers who just wanted to climb the ladder and be good employees, like Eichmann. But, I'm also inclined to think 'bollocks'. We all have some kind of moral compass where genocide definitely pings as A BAD THING and therefore an ability to recognise that maybe we're about to sign off on A BAD THING. Eichmann, like many Nazis, surely knew what he was doing, what it would result in. There's turning a blind eye to the photocopier jam so someone else gets the blame and then there's turning a blind eye to genocide. One of them, pretty fucking evil. <br/><br/>An amazing reading experience. A lot of food for thought.
Review by blake.rosser
16/06/2015
Simply magnificent. Arendt uses the trial of Adolf Eichmann in Jerusalem as a platform for examining the evil behind the Holocaust and the level of responsibility held by each faction of the conflict. She is absolutely uncompromising in her examination of the responsible parties, giving nobody, not even the Jews themselves, a free pass. Her discussions of the situations in Denmark and Bulgaria are particularly revealing, and even inspiring. The skill Arendt possesses in ignoring all of the trivialities of a situation in order to penetrate to the deeper and profoundly relevant truths is astounding. Her portrait of Eichmann is shocking, not because she shows that his crimes were due to his inherent monstrosity but rather because she higlights the incredible <i>thoughtlessness</i> that allowed him to shirk any conceivable pangs of conscience.
Review by ecw0647
16/06/2015
I read this in college and it just blew me away. One of the more important books of the 20th century. Her idea that "banality" and thoughtlessness, relying on the routines of bureaucracy lie at the root of evil had a profound impact on my thinking. "It was sheer thoughtlessness that predisposed him to become one of the greatest criminals of the period," she says of Eichmann. One can still see the basic truths of her book operating very day.<br/><br/>The latest method to avoid accountability seems to be to claim one is "too busy" to be brought to trial. This tactic, used by Bob Bennett, in an effort to keep Clinton from having to answer charges in the Paul Jones case, is now being used by members of the Bush administration to avoid having to face possible charges for ostensible war crimes.<br/><br/>That kind of thinking brings a whole new meaning to "banal".
Review by jasonli
16/06/2015
"Eichmann in Jerusalem" is a collection of Arendt's reports, originally written for the New Yorker, about the trial of Adolf Eichmann, a high-but-not-executive-ranking officer in Nazi Germany during World War II, and the man responsible, at least in part, for addressing the "Jewish problem" then. In this book, Arendt both reports about the trial and tells the life story of Eichmann, a true bureaucrat of evil.Arendt's writing reaches far beyond a regular report – she delves into the philosophical, legal, historical and sociological aspects of the trial and of the accused. With relentless energy and effort, Arendt ends up cross examining the judges, prosecution and defense, to tell Eichmann's story and to grapple with the tricky question of what exactly is a legal (at the time) genocide?