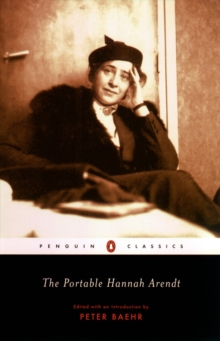 The Portable Hannah Arendt
Paperback
Description
Although Hannah Arendt is considered one of the major contributors to social and political thought in the twentieth century, this is the first general anthology of her writings.
This volume includes selections from her major works, including The Origins of Totalitarianism, Between Past and Future, Men in Dark Times, The Jew as Pariah, and The Human Condition, as well as many shorter writings and letters.
Sections include extracts from her work on fascism, Marxism, and totalitarianism; her treatment of work and labour; her writings on politics and ethics; and a section on truth and the role of the intellectual.
Information
Format: Paperback
Pages: 640 pages
Publisher: Penguin Books Ltd
Publication Date: 29/07/2003
Category: History of ideas
ISBN: 9780142437568
Free Home Delivery
on all orders
Pick up orders
from local bookshops
Reviews
Showing 1 - 1 of 1 reviews.
Review by Hopsakee
16/06/2015
I loved reading it, although it was a challenging read for me. Spread throughout the book are true parcels of insight. But there's also a lot of text that's hard to understand. I don't know if it's Hannah Arendt or the consequence of being a selection of writings, but sometimes the argument seems to start in mid-air en seems to lead nowhere in particular. It feels like listening in awe to one of the most individual and intelligent thinkers of the previous century while she's talking to one of her fellow intellectuals over a cup of thee and slice of cake, or coffee with a brownie, of beer with pretzel or cappuccino with croissant (I don't know which habit she would have had because she's lived everywhere I believe). Intead of reading a well structured treatise. Of course that isn't true, not even a bit. Her lists of used literature are enormous.I really enjoyed her explanations of Greek, Latin and modern history writing. I still try to grasp her distinction between labour, work and action. Which in my opinion is very usefull. But most of all I like here ability to change her mind and her stubborn own way of thinking. I will most certainly return to this book and see if I will understand more than I did in this first sitting.