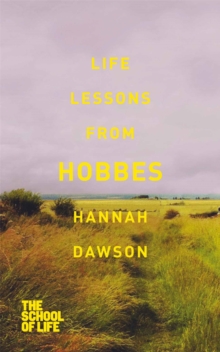 Life Lessons from Hobbes
Paperback / softback
Description
'The School of Life offers radical ways to help us raid the treasure trove of human knowledge' Independent on Sunday Thomas Hobbes was an English philosopher.
Born in Wiltshire in 1588, his masterpiece, Leviathan, established the foundation for Western political thought and inspired both hate and awe.
He revealed the darker side of human nature and the value of authority.
But he also showed us how to flourish, how to be fearless and free, so that our lives need not be 'nasty, brutish and short'.
Here you will find insights from his greatest work. The Life Lessons series from The School of Life takes a great thinker and highlights those ideas most relevant to ordinary, everyday dilemmas.
These books emphasize ways in which wise voices from the past have urgently important and inspiring things to tell us. 'thoroughly welcoming and approachable ... [an] invigorating essay on Hobbes ... If the six books in the Life Lessons series can teach even a few readers to pay passionate heed to the world - to notice things - they will have been an unquestionable success' John Banville, Prospect '[Life Lessons From Hobbes is] the best of this bunch ... trenchantly confronting contemporary political problems ... there is a good deal to be learned from these little primers' Observer 'Hannah Dawson is especially good on why Hobbes's theories on the meaning of freedom are so relevant' Evening Standard
Free Home Delivery
on all orders
Pick up orders
from local bookshops