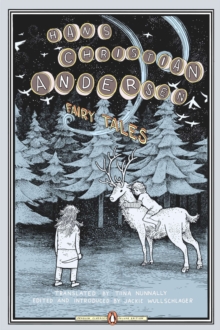 Description
Hans Christian Andersen was the profoundly imaginative writer and storyteller who revolutionized literature for children.
He gave us the now standard versions of some traditional fairy tales-with an anarchic twist-but many of his most famous tales sprang directly from his imagination.The thirty stories here range from exuberant early works such as "The Tinderbox" and "The Emperor's New Clothes" through poignant masterpieces such as "The Little Mermaid" and "The Ugly Duckling," to more subversive later tales such as "The Ice maiden" and "The Wood Nymph."
Information
Format: Paperback
Pages: 438 pages
Publisher: Penguin Books Ltd
Publication Date: 01/04/2006
Category: Traditional
ISBN: 9780143039525
Other Formats
Hardback from £5.95
Paperback from £2.50
CD-Audio from £8.59
Free Home Delivery
on all orders
Pick up orders
from local bookshops
Reviews
Showing 1 - 4 of 4 reviews.
Review by leirali
16/06/2015
Oh, Hans Christian Andersen. My favorite of favorites. I love this man. Since I was a little girl, I must have read "The Little Mermaid" a few dozen times. I was also familiar with (and loved) his "The Princess and the Pea," "The Little Match Girl," "Thumbelina," "The Ugly Duckling," and "The Red Shoes." Later it was "The Snow Queen" and "The Nightingale" and "The Steadfast Tin Soldier." Somewhere along the way I realized that Andersen was responsible for all of my favorite childhood stories. I'd been looking for a good translation or a definitive collection of his work for a few years. There's a lot out there. I was attracted to the Penguin Classics Deluxe Edition because of the wacky cover (inspired by the tale "The Traveling Companion"), and the translator's note cinched the deal. Tiina Nunnally was devoted to preserving Andersen's original language and interpreting his writing style. Her respect of his work really shows, and I slowly devoured each story. It took me a full year to get through this book, a total of 30 stories, and it has come everywhere with me like a security blanket. It's almost sad that I'm done with it.This collection doesn't claim to be complete edition of all of his stories (which was what I originally thought I wanted), but is instead a sampling of some of his most important works. They are arranged in chronological order, and thanks to an extended timeline of Andersen's life and biography in the introduction, it's really easy to see this bizarre man's journey through life. Reading this tales, most of which were autobiographical in some way or another, I felt really connected to him. In the back of the book, there are notes on each tale explaining why he wrote them and the publication history. I never knew that Hans felt he WAS the little mermaid, sacrificing himself for true love only to be handed disappointment. It's all the more heart-breaking to know that he drew from real life inspiration to compose it.
Review by ecuddy
16/06/2015
The illustrations on this book are what first caught my attention. I was perusing the local bookshop when the marvellous and odd pictures popped out from a shelf and inspired me to investigate. Needless to say, I bought the book and I love it. My favourite story is "The Travelling Companion." Beautiful and interesting, (slightly creepy) tale. Enjoy!!
Review by greeniezona
16/06/2015
We have been reading this book at bedtime for a long, long time. I know, I should have looked at the book and realized how long it was, but with the lushly illustrated cover, I was really, really expecting more illustrations. Of which there were almost none, and certainly not like the cover. <br/><br/>Before I get carried away, I do want to say that I found this collection of tales to be magical and surprising. I guess I was often distracting by evaluating whether or not I thought the stories were too "old" for Jefferson. I shouldn't have worried. He said he really liked the book, and after we finished reading it, he took it upstairs to read in bed and within a few days said he'd reread most of it. (He skipped some of the stories.) Of course, his favorite stories tended to be the most blood-thirsty ones.<br/><br/>I had never read the "real" Little Mermaid before. It's interesting to me how much darkness is in these tales. Not just "the girl dies," which was all I'd been told about how the original varied from the Disney version, but through all the stories. That there is darkness, and we probably won't get what we most want in life, but still we should be honest and humble, and strive for justice and beauty.<br/><br/>If Jefferson absorbed even a little of that message, I should be pretty happy.
Review by sturlington
16/06/2015
Andersen is a mixed bag for me. First, this is a beautiful collection, with wonderful woodcut illustrations by Andersen himself, and nicely translated. It contains his most famous stories, including one of my all-time favorites, "The Nightingale," as well as such tried-and-true chestnuts as "The Ugly Duckling," "The Emperor's New Clothes," "The Princess on the Pea" and the incomparable "Snow Queen" (what a strange and bewitching story that is). The less well-known stories are even better; I have to heartily recommend "Little Claus and Big Claus" and "The Traveling Companion." But Andersen is pretty hard on his characters, particularly his girls, and stories like "The Little Mermaid" and "The Red Shoes" are very disturbing to me now. Many of these stories have a strong religious bent to them often involving subjecting oneself to God's will that made me uncomfortable, so that when reading these stories aloud to my son, I often found myself censoring what I was reading. I couldn't even finish "The Little Match Girl," a story that is appropriate for no one. Altogether, I prefer the straightforward bloodthirstiness of Grimm, but as I say, there are many gems in here so long as you are choosy.<I>Mostly read aloud to my son in 2015.</I>
Also by Hans Christian Andersen | View all