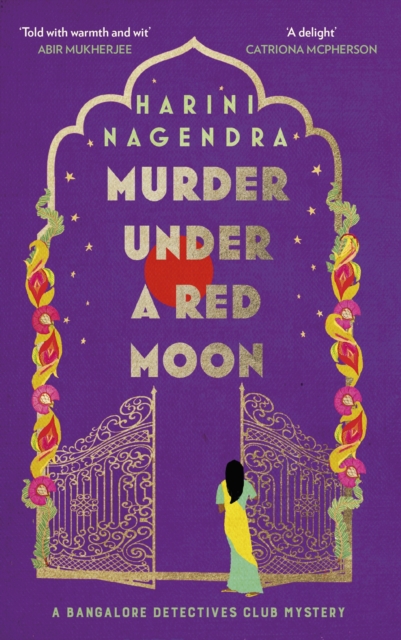 Murder Under a Red Moon : A 1920s Bangalore Mystery
Paperback / softback
Description
When new bride Kaveri Murthy reluctantly agrees to investigate a minor crime during the blood moon eclipse to please her domineering mother-in-law, she doesn't expect to stumble upon a murder - again. With anti-British sentiments on the rise, a charismatic religious leader growing in influence, and the fight for women's suffrage gaining steam, Bangalore is turning out to be a far more dangerous place than Kaveri ever imagined, and everyone's motives are suspect. Together with the Bangalore Detectives Club - a mixed bag of people including street urchins, nosy neighbours, an ex-prostitute and a policeman's wife - Kaveri once again sleuths in her sari and hunts for clues in her beloved 1920s Ford.
But when Kaveri's life is suddenly put in danger, she realizes that she might be getting uncomfortably close to the truth.
So she must now draw on her wits and find the killer -- before they find her... Praise for Harini Nagendra 'A gorgeous debut mystery with a charming and fearless sleuth . . . spellbinding' SUJATA MASSEY'Told with real warmth and wit. . . A perfect read for fans of Alexander McCall Smith and Vaseem Khan' - ABIR MUKHERJEE'A cosy mystery that warmly illuminates a time and place not often examined in fiction' VASEEM KHAN'A beautifully painted picture of a woman's life in 1920s India' M W CRAVEN'A delight' CATRIONA MCPHERSON'The classic whodunnit with the added appeal of a female sleuth in Colonial India. . . fascinating' RHYS BOWEN'Told with real warmth and wit. . . Harini Nagendra has created an intricate and fiendish mystery with a wonderful duo of amateur sleuths Kaveri and Ramu at its heart, and capturing the atmosphere and intensity of Bangalore in the roaring twenties.
I can't wait for the next instalment. A perfect read for fans of Alexander McCall Smith and Vaseem Khan' - ABIR MUKHERJEE'Riveting. [Nagendra's] use of colonial history is thoroughly fascinating, with devastating depictions of the airy condescension of the British.
A fine start to a promising series' BOOKLIST Starred Review'Harini Nagendra takes us to a wonderfully unfamiliar world in this delightful debut mystery. . .I couldn't put it down' VICTORIA THOMPSON, USA Today bestselling author of Murder on Madison Square'Absolutely charming . . . this one is a winner!' CONNIE BERRY, USA Today best-selling and Agatha-nominated author of The Kate Hamilton Mysteries. 'An enjoyable trip back in time with a spunky young woman for company.' R V RAMAN, author of Fraudster and A Will to Kill'This lush mystery will transport you to heady 1920s Bangalore, where new bride Kaveri stumbles into sleuthing-while dragging her doctor-husband into the fray.
Mouth-watering fashion and food set against simmering colonial intrigue in this delicious whodunit can be devoured in one sitting.' SUMI HAHN, author of The Mermaid from Jeju'I loved The Bangalore Detectives Club . . . Kaveri especially is charming.' OVIDIA YU, author of The Cannonball Tree Mystery'Nagendra makes her fiction debut with an exceptional series launch. . . rich, edifying, and authentic' Publishers Weekly, Starred Review'Deliciously exotic' Sunday Post
Information
Format:Paperback / softback
Pages:304 pages
Publisher:Little, Brown Book Group
Publication Date:30/03/2023
Category:
ISBN:9781408715239
Information
Format:Paperback / softback
Pages:304 pages
Publisher:Little, Brown Book Group
Publication Date:30/03/2023
Category:
ISBN:9781408715239
Also in the The Bangalore Detectives Club Series series