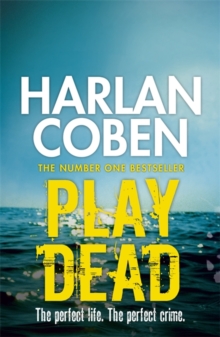 Description
A fast-moving, suspense-filled thriller from the No.1 bestselling author of LONG LOST.Ex fashion model and successful business woman Laura Ayars' perfect world is shattered at a time which should have been the happiest of her life.
On her honeymoon, her sports superstar husband goes for a swim - and never returns.
But what has happened to David - can he really be dead?Whilst struggling to cope with her almost overwhelming grief, Laura is plagued by questions and doubts.
Was it an accident? Or suicide? Or is it some terrible, ill-judged hoax? As events begin to unfold, Laura starts to question David's mysterious disappearance.
She begins to uncover a conspiracy which reaches deep into the past, and is now slowly beginning to destroy everyone involved.
Someone will do anything to keep Laura away from the awful truth - and she has no idea who she can trust . . .
Information
Format: Paperback
Pages: 528 pages
Publisher: Orion Publishing Co
Publication Date: 24/06/2010
Category: Crime & mystery
ISBN: 9781409120483
Free Home Delivery
on all orders
Pick up orders
from local bookshops
Reviews
Showing 1 - 4 of 4 reviews.
Review by adpaton
16/06/2015
Once upon a time I was marooned in hospital with nothing to read and, desperate, I accepted the loan of Danielle Steele's 'The Promise'. What a book! It was written in 1978 and very likely was a major influence on Harlan Coben back in the days before he became Harlan Coben because nothing else can explain 'Play Dead'. Written in 1989, this is a seriously bad book and once again I am shocked by the publisher's greed in trying to make even more money out of a successful writer by publishing his juvenalia; I am also surprised that Harlan Coben allowed it - although, to do him justice, he does state in a preface that this is not a book of which he is particuarly proud and advises novice Coben readers to cut their teeth on something else. Coben is one of my favourite writers but had this been the first of his books I read, it would also have been my last because it really is pretty dire. Not laugh-out-loud 'Gosh this book is hilariously badly-written' dire, just average dire - but dire none the less. Unrecognisably dire. Enough with the dire: there's this incredibly beautiful sexy supermodel with her own clothing line, Laura Ayers, who secretly marries this incredibly talented, handsome basketball player David Baskin, and they go on a romantic honeymoon on the Australian Gold Coast. Sun, sea and sex - lots of it, because these two incredibly yada yada people just can't get enough of each other's incredibly hot bodies. And in case we forget, Coban keeps reminding us of their incredible hotness.But then oh dear, hubbie David disapears, goes for a swim one night and despite being an incredibly strong and experienced swimmer he disappears: a battered corpse emerges from the briney depths a few days later and is identified by his best friend, a policeman, who has flown over from the States. Laura is incredibly gutted, natch, and almost falls apart - but her sister and her best friend are there to help her pull herself together so she is well enough to attend a tribute to David at his old basketball grounds. She watches a match played by his old team and sees he has been replaced by this incredibly handsome buff new player whose moves are so similar to those of her late husband as to be almost identical. Really, it's just incredible. Laura is strangely drawn to the stranger...In Danielle Steele's book, the heroine is persuaded to abandon her fiance for his own good, and undergoes intensive plastic surgery that transforms her into a completely different and even more beautiful woman. Despite her best intentions however, she meets up with her ex [who has been told she is dead] and he is strangely drawn to her...In Play Dead, one of the characters undergoes extensive plastic surgery and has a secret to hide. I'm not saying who because that would spoil the book for you so I'll just mention that he flew back to the States from Australia and David's best friend the policeman is helping him start a new life. However, as far as I can recall, no one in The Promise is so deadset on keeping the lovers apart that they are prepared to committ murder while in Coben's book the corpse rate mounts up. There's a secret in the past which must be protected at all costs: we are given hints of it throughout and the whole thing is predictable, very unlikely and totally preposterous. None of those three factors is out of place in a well-written novel, twists and turns, red herrings and shocks all add to the fun: but this is not a well-written novel and, to me at least, contains no glimmer of the brilliance which now marks Coban's work. Quite incredible.
Review by dools46
16/06/2015
enjoyed this, the writing was simple and probably predictble but still worth a red
Review by gogglemiss
16/06/2015
Not as good as the last one I have read of his, but enjoyable. As it was his first book, it wasn't bad. Predictable and slightly unbeleivable.
Review by reader68
16/06/2015
Basketball player David Baskin fakes his own death. 7 out of 10. Written from a man's point of view sometimes.