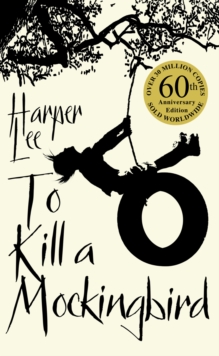 To Kill A Mockingbird : 50th Anniversary Edition
Paperback
Description
'Shoot all the bluejays you want, if you can hit 'em, but remember it's a sin to kill a mockingbird.'A lawyer's advice to his children as he defends the real mockingbird of Harper Lee's classic novel - a black man charged with the rape of a white girl.
Through the young eyes of Scout and Jem Finch, Harper Lee explores with exuberant humour the irrationality of adult attitudes to race and class in the Deep South of the 1930s.
The conscience of a town steeped in prejudice, violence and hypocrisy is pricked by the stamina of one man's struggle for justice.
But the weight of history will only tolerate so much. To Kill a Mockingbird is a coming-of-age story, an anti-racist novel, a historical drama of the Great Depression and a sublime example of the Southern writing tradition.
Information
Format: Paperback
Pages: 320 pages
Publisher: Cornerstone
Publication Date: 01/06/2010
Category: Classic fiction (pre c 1945)
ISBN: 9780099549482
Other Formats
Hardback from £14.55
CD-Audio from £16.25
Free Home Delivery
on all orders
Pick up orders
from local bookshops
Reviews
Showing 1 - 5 of 5 reviews.
Review by MinaKelly
16/06/2015
Justifiably a classic. My expectations coming in to the book was that it focused on a trial, but in actuality the trial only makes up one part of the bildungsroman of Scout, the narrator. It's ripples are felt throughout the book, impacting both before and after the event, but it does not dominate the book in the way I'd been led to believe. I found Scout very likeable, a tomboy coming round to what would be expected of her as an adult, and as a narrator she was perceptive in ways an adult wouldn't be.
Review by christinelstanley
16/06/2015
There is nothing I can say that hasn't been said before - simply wonderful! It's one of those books that has to be read again and again.
Review by martensgirl
16/06/2015
I read this book as it is considered by many to be one of the best books ever written. On the whole, I would agree with this sentiment. It is a coming-of-age tale and conveys the racial tensions found in 1930s America very well. My only complaint would be that I find Atticus Finch a bit of a goody-goody to the extent that I do not find him believable.
Review by Versha.Bharat
16/06/2015
"They're certainly entitled to think that, and they're entitled to full respect for their opinions... but before I can live with other folks I've got to live with myself. The one thing that doesn't abide by majority rule is a person's conscience." <br/><br/>I would have missed something really good if I wouldn't have read this book!! The initial 50 pages were difficult to get through but the beauty started later on (at least for me it did)! What I loved about this book was the naivety and the innocence in the narration. Also, the character of Atticus was simply amazing being a single parent the way he handles his children, the way he make them understand what is right and what is wrong without raising his voice or hurting them is the loveliest part. But of course there is so much to learn from this book.<br/>
Review by borhap
16/06/2015
Hey Boo!<br/>Hands down my favourite book ever! I'm sad I didn't discover it earlier in my life