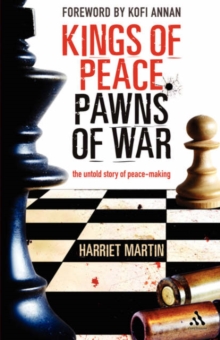 Kings of Peace - Pawns of War
Hardback
Description
The secret world of international peace deals is exposed in "Kings of Peace", a ground-breaking new book that goes behind the scenes of televised handshakes to reveal what it really takes to broker peace in today's conflicts.
Drawing on unparalleled access to some of the world's leading conflict mediators, "Kings of Peace" provides fascinating insights into the lengthy, fragile and often stormy process of transforming war into peace.
Lakhdar Brahimi, former Algerian Foreign Minister, brokered a deal in Afghanistan, before going on to help - albeit reluctantly - the Americans appoint a government in Iraq; Kenyan General Lazaro Sumbeiywo successfully talked the two sides in South Sudan - Africa's longest running war - into making peace; Peruvian diplomat, Alvaro de Soto, spent five years trying to resolve the Cyprus conflict, only to see his efforts fail at the final hurdle; Briton Martin Griffiths secured the first peace deal in Indonesia's troubled province of Aceh; and, the Norwegians Erik Solheim and Vidar Helgesen managed to midwife the ongoing peace process in Sri Lanka. These are extraordinary individuals whose tireless efforts and personal conviction have succeeded in persuading hostile groups to stop fighting often after many others have abandoned peace efforts as a lost cause.
A powerful and important new book, "Kings of Peace" shines an intriguing light on a profoundly secretive profession, in which a mediator will meet the American President one day and the world's most wanted terrorist the next, all in the name of brokering a peace deal.
Above all, it explores the ethical tightrope that the mediators themselves inevitably walk, between being kings of peace and pawns of war.
Information
Format: Hardback
Pages: 204 pages, 1, black & white illustrations
Publisher: Bloomsbury Publishing PLC
Publication Date: 08/06/2006
Category: Peace studies & conflict resolution
ISBN: 9780826490575
Free Home Delivery
on all orders
Pick up orders
from local bookshops