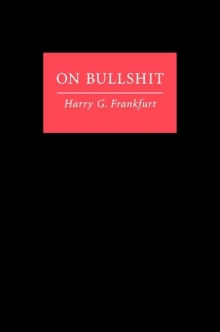 Description
A #1 NEW YORK TIMES BESTSELLER One of the most salient features of our culture is that there is so much bullshit.
Everyone knows this. Each of us contributes his share. But we tend to take the situation for granted. Most people are rather confident of their ability to recognize bullshit and to avoid being taken in by it.
So the phenomenon has not aroused much deliberate concern.
We have no clear understanding of what bullshit is, why there is so much of it, or what functions it serves. And we lack a conscientiously developed appreciation of what it means to us.
In other words, as Harry Frankfurt writes, "we have no theory." Frankfurt, one of the world's most influential moral philosophers, attempts to build such a theory here.
With his characteristic combination of philosophical acuity, psychological insight, and wry humor, Frankfurt proceeds by exploring how bullshit and the related concept of humbug are distinct from lying.
He argues that bullshitters misrepresent themselves to their audience not as liars do, that is, by deliberately making false claims about what is true.
In fact, bullshit need not be untrue at all. Rather, bullshitters seek to convey a certain impression of themselves without being concerned about whether anything at all is true.
They quietly change the rules governing their end of the conversation so that claims about truth and falsity are irrelevant.
Frankfurt concludes that although bullshit can take many innocent forms, excessive indulgence in it can eventually undermine the practitioner's capacity to tell the truth in a way that lying does not.
Liars at least acknowledge that it matters what is true.
By virtue of this, Frankfurt writes, bullshit is a greater enemy of the truth than lies are.
Information
Format: Hardback
Pages: 80 pages
Publisher: Princeton University Press
Publication Date: 10/01/2005
Category: Ethics & moral philosophy
ISBN: 9780691122946
Free Home Delivery
on all orders
Pick up orders
from local bookshops
Reviews
Showing 1 - 5 of 24 reviews.
Previous | Next
Review by rwmsn
16/06/2015
How can you say too musch about this little book. Frankfurt makes a good stab at parsing the characteristics that define bullshit.
Review by Daedalus
16/06/2015
I don't agree at all with the reviewer who describes this as a good parsing of bullshit. I do, however, think it's an enjoyable read as long as it isn't taken too seriously. While Dr. Frankfurt makes a point of telling us this essay is not meant to address the rhetorical qualities of bullshit, his introductory sentences make clear that this essay is precisely that, a working example of the rhetoric of bullshit (sweeping generalities relying purely on anecdotal evidence): "One of the most salient features of our culture is that there is so much bullshit. Everyone knows this." Laugh with him lest he laugh at you.
Review by disneypope
16/06/2015
Professor Emeritus Frankfurt from Princeton writes a philosopical treatise on our culture's propensity to , well, bullshit all the time instead of speaking the truth as things are. Entertaining read.
Review by jbushnell
16/06/2015
This slim volume attempts to develop a theory which will position bullshit in the framework of moral philosophy, and along the way answers questions like: how does bullshit differ from the lie? A blast to read, although I disagree with almost every major conclusion Frankfurt makes (with the anti-postmodernism argument that closes the book being particularly unwelcome).
Review by mhgatti
16/06/2015
Frankfurt passes up the perfect opportunity to have a little fun with the subject, never veering from his dry and overly earnest look at an extremely silly word. Somewhat interesting, but ultimately not very enjoyable.