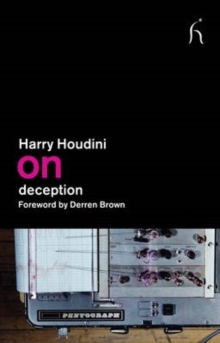 On Deception
Paperback
Part of the On series
Description
On Deception presents the highlights of Houdini's writings on illusions, revealing him to have been a remarkably prescient champion of rationalism and an ardent opponent of the duping of susceptible individuals. Throughout his life, the world's most famous escapologist strove to expose the methods and tricks of illusionists and sham spiritualists.
Studying entertainers and criminals alike, Houdini investigates the tricks of the mind and sleights of hand that have deceived people throughout history.
The magician's writings caused a public sensation; legend has it that The Right Way to do Wrong was bought in bulk by burglars in an attempt to guard the tricks of their trade.
This collection also includes Houdini's revelations about the methods behind some of his own most famous tricks, and articles he wrote to expose his imitators, demonstrating him to be unarguably the master of his craft.
Information
Format: Paperback
Pages: 112 pages
Publisher: Hesperus Press Ltd
Publication Date: 20/11/2009
Category: Conjuring & magic
ISBN: 9781843916130
Free Home Delivery
on all orders
Pick up orders
from local bookshops
Reviews
Showing 1 - 5 of 11 reviews.
Previous | Next
Review by xavierp
16/06/2015
Firstly, many thanks to Hesperus Books for sending this copy through so promptly. My copy is the 2009 (2010 reprint) copy and has a foreword by Derren Brown. It is part of the "On" collection."On Deception" is Houdini's thoughts and findings on lock picking, escapology, magic and various methods of producing spirits and mediumistic apparitions. It is very short, some 74 pages, and is written in an extremely conversational format. Houdini jumps around from subject to subject and, as was fitting for his personality, he is not above pointing out his rivals' shortcomings. The book is supposed to give us an insight into how burglars and mediums do their thing - and it does, to an extent - but it is too short. Any one of the subjects could have filled a thick book by itself.I had heard much about this book and other books by Houdini. A magician, an escapologist, a self-promoter, a skeptic. Houdini was many things. Unfortunately, he was not much of an author. I suspect that he found it difficult to sit down and write owing to his many theatre commitments and this comes across in the book itself. It is useful to fill your collection. It is useful to see how thinks were done at the turn of the 20th Century. However, as anything other than this, it falls short - everything in the book has been covered since then many times and in much more detail.An interesting read, but the re-read value is low.
Review by dtw42
16/06/2015
At barely eighty pages (inclusive of Derren Brown's Introduction), this is a slight book, interesting chiefly as a historical curiosity. There are four general aspects to Houdini's text. First, self-promotion: as a showman (and a show-off) he recounts tales of his own performances. How much faith we can have in the veracity of these accounts is debatable, given the man and the nature of the profession itself. Second, debunking the methods of others, primarily his rivals, and especially those who traded on his name or reputation. This is essentially a restatement that his escapes were done "for real" (that is, picking the locks of cuffs and shackles, and wriggling free of restraints) while others merely pretended to do so, whilst in fact simply unlocking the devices, having obtained the original keys or combinations by subterfuges such as the not-especially-cunning ruse of having an associate ask about/borrow them from their owners in advance.Third, a description of the methods used by professional decievers such as thieves and fake mediums. This aspect shows us that there is nothing new under the sun: today's doorstep distraction robbers and email scammers are drawing on a long tradition.Fourth, a description of the methods of other "showman" types, such as might be associated with a travelling carnival or circus: fire-eaters, sword-swallowers, and the like. This aspect is peppered with extracts from earlier works, and this leaves another level of doubt in the reader's mind: if someone said, in some nineteenth-century work, that it was possible to make ones skin heat-resistant or ones body immune to snake poison by the use of some home-brewed chemical/herbal concoction, would YOU believe it? I'm not sure I would.Houdini goes into some detail about methods for escaping from various types of handcuff, though (a) some of these don't seem to quite make sense, and (b) one would hope that they'd be of academic interest only now anyway – presumably modern cuffs are somewhat more sophisticated. Similarly his description of his method for unloosing oneself from a straitjacket doesn't quite make sense.Nevertheless, an interesting curio. Given a cover price of eight pounds, I might suggest that it's (to paraphrase Dr Johnson) worth reading, yes, but not worth paying to read.NOTE: those left wanting more anecdotes, by briliant men with large egos, on the subject of lockpicking, would do well to seek out the chapter 'Safecracker meets safecracker' in Richard P. Feynman's <em>Surely You're Joking, Mr. Feynman!<em>
Review by clfisha
16/06/2015
A beautiful Hesperus edition containing a a tiny sliver (75pg) of thoughts from the master of escapism Houdini himself. It has a wonderful introduction by the unsettling Mentalist Derren Brown however the rest is a bit of a let down. Houdini's style is rather conversational yet does not flow very well at all He starts off in short, choppy bursts to uncovering some rather mundane scams and then explains some tricks of his trade unfortunately his descriptions can be somewhat confusing. It maybe down my poor visualising skills but I still have no idea how to get out of a straightjacket, lets hope I never need that particular skill eh? In fact it isn't until the latter half that this book starts to shine. The combination of Houdini's anecdotes and a fascinating brief history of acts such as fire eaters or snake defiers is a wonderful combination, allowing his huge personality to shine through. So although I will be on the look out for the other books in the "On" series, it is probably only of interest to die hard fans.
Review by RobertPettifer
16/06/2015
I received this Hesperus Press copy of the book through the Early Reviewers scheme at LibraryThing.It's a very short work with an interesting introduction by Derren Brown. There are chapters on "Thieves and their tricks," "Light on the subject of jailbreaking," and "Miracle mongers and their methods" None of these are particularly relevant in 2010 only proving that there have always been charlatans, and always people silly enough to fall for their tricks.The remainder of the book describes such skills as fire-eating, sword-swallowing and becoming resistant to snake-bites.It's probably slightly interesting in a historical contect but the discussion of handcuffs, ways to fireproof your body and how poisons work are all so out of date and/or misguided as to be of very little interest. I certainly would not pay £7.99 for this book. Houdini's self-promotion and bragging also get slightly wearing after a while.
Review by bragan
16/06/2015
A collection of short essays by Harry Houdini, reissued by Hesperus Press with an introduction by Darren Brown. Specifically, it contains the following: "Houdini on Houdini," a brief (and somewhat disjointed) account of Houdini's career; "Thieves and Their Tricks," a look at various forms of theft and fraud, some of which today seem rather quaint and others of which are depressingly familiar; "Light on the Subject of Jailbreaking," in which he discusses methods of picking locks and escaping from handcuffs and straitjackets while disparaging his imitators; and "Miracle-Mongers and Their Methods," which offers detailed, fascinating, and somewhat horrifying descriptions of how fire-eating, sword-swallowing and snake-handling acts are done. (I'm highly dubious about his discussion of cures for snakebites, by the way, but the rest of that article seems well-researched and believable.)The entire book, at well under 100 pages, is slight enough that it's debatable whether the contents are worth the cover price, but I certainly found it worth reading, and it might make a nice little addition to the bookshelves of anyone with an interest in magic or skepticism.