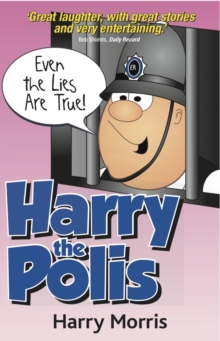 Even the Lies are True
Paperback / softback
Description
This work presents funny, strange and possibly true tales from Harry the Polis.
Harry Morris is out to show a side of our industrious police force that we don't often see - the lighter side.
His time with the Glasgow and Strathclyde constabulary, or 'polis' for short, hasn't robbed Harry of his sense of humour, and every wily witness, cocky con, and sarcastic sergeant he ever rubbed up against is here in page after page of humorous stories.
Full of hilarious anecdotes, oddball characters, quick comebacks and unlikely excuses, "Even the Lies are True" shows true Glaswegian humour at its finest.
Every funny tale - tall and true - of Harry's twenty-nine years police career is either here, or yet to come in future Harry the Polis books like "Even More Lies" and "Nothing Like the Truth" - and there's no shortage of laughs in these hilarious stories from the rank and file.
Already described by Alex Dickson of Radio Clyde as 'classics of our time' and by Bob Shields of the Daily Record as 'a must read for anyone who likes to walk about with a grin on their face', "Even the Lies are True" is sure to arrest you with its irrepressible mirth.
Information
Format: Paperback / softback
Pages: 224 pages, Illustrations
Publisher: Black and White Publishing
Publication Date: 31/07/2006
Category: Police & security services
ISBN: 9781845021139