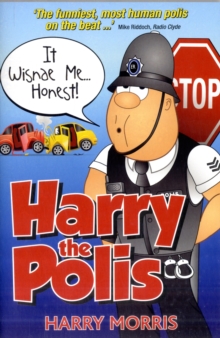 It Wisnae Me... Honest! : A Hilarious New Collection from Harry the Polis
Paperback / softback
Description
The hilarious adventures of Harry the Polis, the self-appointed Chief Constable of funny stories, continue with the publication of his ninth book, "It Wisnae Me...Honest"!
Follow our laughing polis-man as he tackles the funny side of policing and introduces us to more of his zany characters and incidents.
There's the Inspector with second wife syndrome, the woman assaulted by a flying sausage and the dead donkey on the manse lawn. And you can't miss the recollections of getting painfully trapped by the goolies, the private call to Prince Charles, the benefits of drinking organic tea or the terrorist attack on a US Naval ship on the Holy Loch...This title is packed full with funny stories, jokes, anecdotes and tales to have you laughing out loud. "It Wisnae Me...Honest!" is another classic collection of comical capers from behind the uniform...And they're all true, honest.
Information
Format: Paperback / softback
Pages: 256 pages
Publisher: Black and White Publishing
Publication Date: 16/08/2011
Category: Police & security services
ISBN: 9781845023553