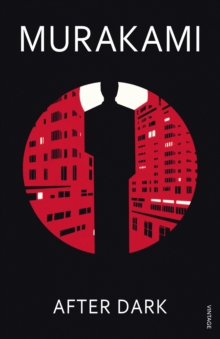 Description
Eyes mark the shape of the cityThe midnight hour approaches in an almost-empty diner.
Mari sips her coffee and reads a book, but soon her solitude is disturbed: a girl has been beaten up at the Alphaville hotel, and needs Mari's help. Meanwhile Mari's beautiful sister Eri lies in a deep, heavy sleep that is 'too perfect, too pure' to be normal; it has lasted for two months.
But tonight as the digital clock displays 00:00, a hint of life flickers across the television screen in her room, even though it's plug has been pulled out. Strange nocturnal happenings, or a trick of the night?
Information
Format: Paperback
Pages: 208 pages
Publisher: Vintage Publishing
Publication Date: 02/06/2008
ISBN: 9780099506249
Other Formats
EPUB from £4.99
CD-Audio from £16.95
Free Home Delivery
on all orders
Pick up orders
from local bookshops
Reviews
Showing 1 - 5 of 12 reviews.
Previous | Next
Review by shawjonathan
16/06/2015
This is much shorter and substantially less bewildering than The Wind Up Bird Chronicle, but just as engrossing. It can dwell on a single image for pages of beautiful prose. It has likeable and interesting characters. I don't know what else to say, except that the book feels perfect: whatever Muraki was trying to do he did, and took me along as a willing passenger.
Review by ivan.frade
16/06/2015
Not the best book of Murakami. It contains the usual elements of the author's style: characteristic descriptions and some "strange" situations in realistic circunstances... but something is missing, the special touch of his other novels, like the "Wind-up bird chronicle" or "Kafka on the shore".Good for Murakami's fans, but i wouldn't recommend it as introductory reading for new comers. Luckily, it is short, so the reader doesn't get tired even when the story is not moving forward too much.
Review by thioviolight
16/06/2015
It is always such a pleasure to read Murakami! This isn't one of my favorites, but I enjoyed the book a lot anyway. Of the things I liked most about this one are the conversations and how the characters' personalities come through in the dialogue.
Review by CarltonC
16/06/2015
A tone poem about several teenage characters whose lifes intersect over the course of one night. Nothing much happens, as the main characters Mari and Takahashi meet, part, meet and part again with the possibility of 'a date' after Mari returns from six months in China, but it is beautifully evoked. For me, the surrealistic passages about Mari's sister, Eri, add little to the story, but help make the unreal mood that is successfully created.I have read several novels by Murakami so the themes and types of characters are familiar, and whilst this novel has the least narrative drive, it creates a beautifully realised world.
Review by mich_yms
16/06/2015
The story telling technique used in this book is rather unusual, but unusual is what I've come to expect of Murakami and his writing. We are told right from the beginning that we are only a viewpoint, a camera floating in space, not having the capacity to participate in all that happens. Like camera viewports, we can only see what is within the rectangular frame, and we make up the rest of what we can't view with our own imaginations.This book reads much like watching a movie, but gives us the insight of a book. It is very intriguing, to say the least, as it's not every day that I come across such a story. It's almost like a study of contrasts, pulling into pieces the workings of a movie while keeping to the formalities of a book, jumping from place to place while still keeping within the same time frame.This here is a story, I feel, about balance. There is this world, and then there is that other world. They both exist together, feed off each other, and both will cease to exist if any one disappears. There is an endless connection from me to you and back to me again. No matter how insignificant we feel about ourselves, or how far apart we may be, there is this web of connectivity that keeps all things in balance.