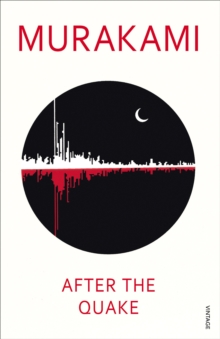 After the Quake
Paperback
Description
The economy was booming. People had more money than they knew what to do with. And then the earthquake struck. For the characters in After the Quake, the Kobe earthquake is an echo from a past they buried long ago.
Satsuki has spent thirty years hating one man: a lover who destroyed her chances of having children.
Did her desire for revenge cause the earthquake? Junpei's estranged parents live in Kobe. Should he contact them? Miyake left his family in Kobe to make midnight bonfires on a beach hundreds of miles away.
Fourteen-year-old Sala has nightmares that the Earthquake Man is trying to stuff her inside a little box.
Katagiri returns home to find a giant frog in his apartment on a mission to save Tokyo from a massive burrowing worm. 'When he gets angry, he causes earthquakes,' says Frog. 'And right now he is very, very angry.' This new collection of stories, from one of the world's greatest living writers, dissects the violence beneath the surface of modern Japan.
Information
Format: Paperback
Pages: 144 pages
Publisher: Vintage Publishing
Publication Date: 06/03/2003
ISBN: 9780099448563
Other Formats
EPUB from £4.99
eAudiobook MP3 from £11.89
Free Home Delivery
on all orders
Pick up orders
from local bookshops
Reviews
Showing 1 - 5 of 9 reviews.
Previous | Next
Review by hippietrail
16/06/2015
Didn't move me like Murakami's work usually does. Read <i>The Elephant Vanishes</i> instead.
Review by tedmahsun
16/06/2015
Six wonderful but sad stories about the wide-ranging effects of a huge event (in this case the Kobe earthquake of 1995) and the emptiness of the human soul. Book ends on a carefully optimistic note.
Review by klarusu
16/06/2015
I must assert from the outset that I am not a particular fan of the short story genre. However, this collection dealing with individuals touched in some way by the Kobe earthquake in Japan has turned that opinion on its head and shows Murakami to be a master of the form.My main problem with a lot of short stories is that they seem forced and in some way less than a novel-length piece. Murakami proves that it is the writer's skill that limits them not the form itself, each of these stories existing as a perfect self-contained whole without any need for the reader to long for a longer piece. His characterisation is brilliant. He manages to convey the emptiness of a man whose marriage has disintegrated and a collection of misfits brought together by a bonfire on the beach using few words and sparse prose, lovingly crafted. He is an expert at descriptives, the hangover at the beginning of 'All God's Children Can Dance' a prime example of this. This is a humorous and slightly oedipal tale of a man finding his faith and demonstrates that Murakami is capable of intertwining humour and depth without trivialising his work. He writes from many perspectives, each as alive in his work as the others - a broken man, an embittered female with regret eating away at her inside, among others. The reader is left with a sense of priviledge at being able to bear witness to a moment in the lives of characters that live on past the end of Murakami's tales. It is a sensation of a perfect glimpse of a moment and the context it stands in, not the impression that the author has been constrained by the format. There are still elements of Murakami's whimsy and magic such as the giant frog, a harbinger of disasters to come. In a testament to his characterisation, you find yourself accepting and rooting for the frog against the odds.The enduring theme of these stories is that of rebuilding - as Kobe has to rebuild after the destruction wreaked by the earthquake, so these characters have to rebuild their lives. The reader is left with a sense of hope that they will succeed. This is a masterclass in the art form and leaves other authors in the shade. Definitely worth the time spent reading and a 1001 book choice that I have no problem with!
Review by stillbeing
16/06/2015
I really enjoyed these - although in some ways I wish there were more stories, as I was really enjoying it and then before I knew it I reached the end! His writing is so creative and imaginative, and so well wrought, he made the most normal things seem magical and the most fantastical things commonplace (I loved Frog battling the angry worm beneath Tokyo).
Review by fmnemonic
16/06/2015
Maybe it is the mark of an author at the top of his game when he can write a set of short stories where little or nothing actually happens in most, but can give the reader a feeling that they know characters in such a short space of time. Most of the characters here are Murakami's staple - introspective and introverted - and some stories still have his trademark surrealism (especially Super-Frog saves Tokyo).Not the great "Kafka on the Shore" Murakami, or the equally brilliant "The Wind-up Bird Chronicle" Murakami, but far better than the "Elephant Vanishes" Murakami.Definitely a good read, albeit a little short at 130 pages.