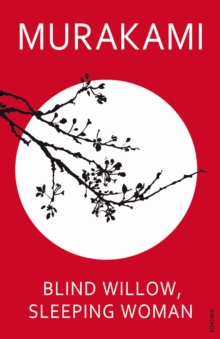 Blind Willow, Sleeping Woman
Paperback
Description
Here are animated crows, a criminal monkey, an ice man, as well as the dreams that shape us and the things we might wish for.
Whether in a chance reunion in Italy, a romantic exile in Greece, a holiday in Hawaii or in the grip of everyday life, Murakami's characters confront loss, or sexuality or the glow of a firefly, or the impossible distance between those who ought to be closest of all.
Following the success of Kafka on the Shore comes a collection that gives full rein to Murakami's inventive mastery.
From the surreal to the mundane, these stories exhibit his ability to transform the full range of the human experience in ways that are instructive, surprising and relentlessly entertaining.
Information
Format: Paperback
Pages: 448 pages
Publisher: Vintage Publishing
Publication Date: 01/07/2007
ISBN: 9780099488668
Free Home Delivery
on all orders
Pick up orders
from local bookshops
Reviews
Showing 1 - 3 of 3 reviews.
Review by tronella
16/06/2015
This is a collection of short stories. Most of them read like he's describing something that happened to him, although a lot of them become very surreal by the end, or aren't really resolved (much like a real occurrence, I guess). I don't have things to say about every story, but here's what I wrote down:"I felt that I knew what he was getting at. At the same time, I felt that I had no idea what he meant." - New York Mining Disaster.Usually a good description of a Murakami story! This particular one made no sense to me whatsoever.The Year of Spaghetti: I love the thought that in Japan you have to go to a specialist shop to buy the kind of herbs required for spaghetti sauce! I never thought of that before."'I'm not just saying this to make you feel good,' Kirie said, 'but you've got something special - that special something it takes to become an outstanding writer. Your stories have a quiet mood, but several of them are quite lively, and the style is beautiful, but mainly your writing is so balanced." - The Kidney-Shaped Stone that Moves Every Day. A good description of Murakami, I think. :)
Review by updraught
16/06/2015
When I reached the final story of this compilation of truly brilliant pieces the idea of having to put the book away so soon worried me into taking a two-month break half-way through the story, thus prolonging the experience in a certain way.Seriously: This is probably the best book I have read in recent years. Murakami's stories are full of surprises, strange twists, infinite spaces and little joys. He excells in describing the little nothings in between - moments where absolutely nothing happens and time seems to stand still.A thoroughly great book.
Review by isabelx
16/06/2015
She just tipped her head a little and said nothing. With her back to me, she allowed her slender fingers to trail in the water. It seemed as if my questions were coursing through her fingers to be conducted to the ruined city beneath the water. It's still down there, I'm sure, the question mark glittering at the bottom of the pond like a polished metal fragment. For all I know, it's showering the cola cans around it with that same question.These are the first of this author's short stories that I have read and I found the introduction, in which he discussed how his approach to writing short stories differed to his approach to novel-writing, was extremely interesting. The stories themselves were a mixture of realistic possibly semi-autobiographical stories, and stories that included more fantastic elements. For some reason my favourite stories adjoined each other, being the last five stories in the book, starting with "Chance Traveller". I think I liked them best because they had a more optimistic tone than a lot of the earlier stories.