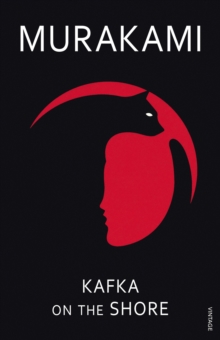 Kafka on the Shore
Paperback
Description
Kafka on the Shore follows the fortunes of two remarkable characters.
Kafka Tamura runs away from home at fifteen, under the shadow of his father's dark prophesy.
The aging Nakata, tracker of lost cats, who never recovered from a bizarre childhood affliction, finds his pleasantly simplified life suddenly turned upside down.
Their parallel odysseys are enriched throughout by vivid accomplices and mesmerising dramas.
Cats converse with people; fish tumble from the sky; a ghostlike pimp deploys a Hegel-spouting girl of the night; a forest harbours soldiers apparently un-aged since WWII.
There is a savage killing, but the identity of both victim and killer is a riddle.
Murakami's novel is at once a classic quest, but it is also a bold exploration of mythic and contemporary taboos, of patricide, of mother-love, of sister-love.
Above all it is a bewitching and wildly inventive novel from a master stylist.
Information
Format: Paperback
Pages: 512 pages
Publisher: Vintage Publishing
Publication Date: 01/10/2005
ISBN: 9780099458326
Other Formats
EPUB from £5.99
eAudiobook MP3 from £34.65
Free Home Delivery
on all orders
Pick up orders
from local bookshops
Reviews
Showing 1 - 5 of 21 reviews.
Previous | Next
Review by laphroaig
16/06/2015
Kafka on the Shore starts off as a very promising story: a dark and interesting main character in the form of Kafka, some sinister shadows lurking in the plot with some quirky and charming counter-points (one of the characters has an ability to talk to cats, a simple and yet fascinating idea).Unfortunately, it loses its way. By the middle of the book large passages are simply mundane, with the strangeness thrown-in like bad seasoning - laboured, anomolous and lacking entertainment value. This is a terrible shame as there lurks in Kafka on the Shore some diamonds of originality and imagination but ultimately this is a book of good ideas with no momentum.
Review by booksbooks11
16/06/2015
I was very surprised to find this in the 1001 Books to Read Before You Die, I was taking it as your basic Stephen King type thriller with a mystical twist to it. On that basis it actually disappointed as it didn't have a nice clean ending like I expected. Having read the precise in 1001 books now I appreciate it a bit more. It is really out there with some wonderful imagery and totally bizarre ideas, but don't expect a nice wrap up "explain all those wierd bits" ending. Somehow that reminds me of Lost, I reckon true Lost fans will love this book, but just like you don't believe the Lost promo every week don't wait for the answers. This book asks more questions than it can possibly answer. Who is that Johnny Walker guy, why is he cutting off cats heads - who knows?Anyone, I did get totally hooked and would love to read some more of Murakami's books.
Review by dylanwolf
16/06/2015
Kafka on the Shore seems almost universally popular and Murakami well-regarded. This is the first of his books I have read and I was less than impressed. It was easy to read and suspenseful but afterwards it felt like having eaten custard. Sweet, yes, but insubstantial and unsatisfying. Twenty, thirty years ago I would have gripped by the bizarre characters and happenings, but now it just comes over as juvenile and melodramatic. Alternate chapters plot the stories of both Kafka, a fifteen-year old runaway and the ageing Nakata who, after a mysterious childhood incident, has the ability to talk to cats. Nakata's story is more engaging, despite the demotic violence of Johnnie Walker, than Kafka's wet-dream fantasies which he experiences with blank equanimity. These two plots eventually converge but too many random themes are packed in for any satisfactory resolution. What is Murakami trying to say about the Oedipus complex? I would have liked to have found about more about the tensions between generations in modern day Japan. This book set up just such a scenario but then didn't deliver.
Review by michaeldwebb
16/06/2015
Beautiful and strange as always from Murakami. I'm not sure if I'm just being childish enjoying such extreme escapism, but there you go. I'd rather read Murakami than anything else, and this is no exception. If you find the idea of talking cats a problem then avoid. If you want to give Murakami a try then this is as good a starting point as any.
Review by beezle176
16/06/2015
adorable story... but if anybody has a clue what happened to johnny walker, please tell me...!