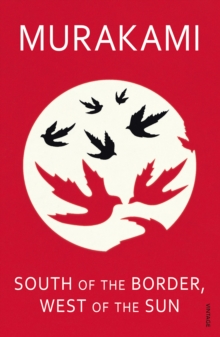 South of the Border, West of the Sun
Paperback
Description
Growing up in the suburbs in post-war Japan, it seemed to Hajime that everyone but him had brothers and sisters.
His sole companion was Shimamoto, also an only child.
Together they spent long afternoons listening to her father's record collection.
But when his family moved away, the two lost touch. Now Hajime is in his thirties. After a decade of drifting he has found happiness with his loving wife and two daughters, and success running a jazz bar.
Then Shimamoto reappears. She is beautiful, intense, enveloped in mystery. Hajime is catapulted into the past, putting at risk all he has in the present.
Information
Format: Paperback
Pages: 192 pages
Publisher: Vintage Publishing
Publication Date: 01/06/2000
ISBN: 9780099448570
Other Formats
CD-Audio from £15.99
EPUB from £4.99
Free Home Delivery
on all orders
Pick up orders
from local bookshops
Reviews
Showing 1 - 5 of 9 reviews.
Previous | Next
Review by thioviolight
16/06/2015
I read this at the beach over the weekend. For some reason, I find Murakami's works ideal for beach reading, and this was a good one. Not too complicated, with just the right touch of the surreal. It's not my favorite Murakami, but I enjoyed it nonetheless.
Review by ethanr
16/06/2015
A very average man lives with the guilt of hurting his first sex partner and the longing for his first love as he settles into a successful, happy life with wife and children. When his first love, a mysterious woman with a limp and a shaded past, comes back into his life, he chooses to give everything up for it. Not his best, but good Murakami.
Review by davidroche
16/06/2015
Mid life crisis? Childhood sweetheart? Murukami is a genius
Review by Tess22
16/06/2015
I always prefer it when Murakami really goes off the surreal deep end, which he doesn't here. He's one of my favourite writers, and this was beautifully written as always (credit to the translator as well). However, this book brings up a serious flaw in his work that I'd never fully appreciated.I've read these characters before. There's a male narrator, very bright but not particularly driven, reasonably but not remarkably attractive, who likes music and women, has a quirky sense of humour (commented upon by other characters) and who falls in love very deeply. There's a beautiful, mysterious, captivating but increasingly troubled woman - impeccably well-dressed, often in blue clothes. These are just echoes of other Murakami characters. Or I suppose those characters are echoes of these, but it doesn't make much difference to my enjoyment levels. Even the plot bears serious similarities to some of his other work.Written by anyone else I think I would have liked it a lot, but as a Murakami novel I was disappointed. His characters weren't fleshed out enough (and certainly not likeable enough) to make up for being recycled, and he didn't follow through on what could have been more interesting plot turns.Conclusion: Could have done better. I mean, at least dress the woman in green instead of blue this time.
Review by debnance
16/06/2015
I have loved everything I've read by Haruki Murakami. Mysterious. Thoughtful. Modern. Quirky.