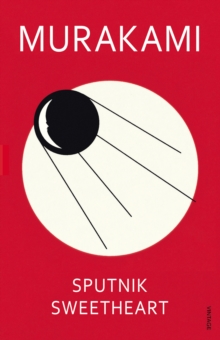 Sputnik Sweetheart
Paperback
Description
Sumire is in love with a woman seventeen years her senior.
But whereas Miu is glamorous and successful, Sumire is an aspiring writer who dresses in an oversized second-hand coat and heavy boots like a character in a Kerouac novel. Sumire spends hours on the phone talking to her best friend K about the big questions in life: what is sexual desire, and should she ever tell Miu how she feels for her?
Meanwhile K wonders whether he should confess his own unrequited love for Sumire. Then, a desperate Miu calls from a small Greek island: Sumire has mysteriously vanished...
Information
Format: Paperback
Pages: 240 pages
Publisher: Vintage Publishing
Publication Date: 03/10/2002
ISBN: 9780099448471
Other Formats
CD-Audio from £18.65
EPUB from £5.99
Free Home Delivery
on all orders
Pick up orders
from local bookshops
Reviews
Showing 1 - 5 of 16 reviews.
Previous | Next
Review by DRFP
16/06/2015
This was the first Murakami novel I read and it remains, thus far, my favourite. It's funny, it's poignant, and everything works despite Murakami's trademark surrealism. Even Murakami's frequent name dropping of writers, musicians, or whatever, doesn't feel unnecessary here given the young, trendy characters the story revolves around. There are similarities to Norwegian Wood but Sputnik Sweetheart is a similar story told far better in my opinion.
Review by scroeser
16/06/2015
I like the simplicity of this story...with such an odd story it could so easily become bogged down in explanations and world-building, but instead Murakami just sketches the outlines and leaves it at that.
Review by aram-mm
16/06/2015
Murakami's fame preceded him and I approached the book hoping to be blown away or terribly disappointed. The story of this unrealised love triangle did neither.Although some might find the characters' attitude too dispassionate for their tastes, my impression while reading it, was not that the characters were cold, but that they failed to -or decided not to- communicate their feelings by means other than quite plain and calm words. This is perfectly illustrated by lovers that do not go further than saying "I like you very much" to each other. This stripped the book of any obvious melodramatism and created an undercurrent of tension (be this sexual or otherwise) that kept me interested and reading while waiting for it to break loose.Some diverting scenes while irrelevant for the main plot helped giving the book its detached tone and increased my interest as I tried to figure out their meaning and place in the story.The toying with the concept of identity and the simple enjoyable prose reminded me slightly of Auster's "Book of Illusions" and probably anyone who has read and liked it will enjoy "Sputnik Sweetheart".Although the book provided me with some hours of entertaining reading, my failing to tie up all the threads (or the author's failing or unwillingness to do so) left the impression of a certain lack of substance, which is not all that bad as it also left me wanting for more, which I hope I will find in some other of Murakami's books.
Review by LadyBlossom
16/06/2015
Poetic, a wonderful read.
Review by techszewski
16/06/2015
I really enjoyed the first half of this book. Second half had me feeling like that maybe this book was better off a short-story, if it had started as one. After hearing Murakami mentioned by so many friends lately, I had to find out for myself what all the buzz was about. I look forward to picking up another of his books.