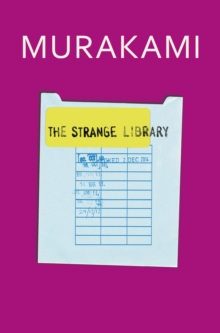 The Strange Library
Hardback
Description
Fully illustrated and beautifully designed, this is a unique and wonderfully creepy tale that is sure to delight Murakami fans. 'All I did was go to the library to borrow some books'.
On his way home from school, the young narrator of The Strange Library finds himself wondering how taxes were collected in the Ottoman Empire.
He pops into the local library to see if it has a book on the subject.
This is his first mistake. Led to a special 'reading room' in a maze under the library by a strange old man, he finds himself imprisoned with only a sheep man, who makes excellent donuts, and a girl, who can talk with her hands, for company.
His mother will be worrying why he hasn't returned in time for dinner and the old man seems to have an appetite for eating small boy's brains.
How will he escape?
Information
Format: Hardback
Pages: 88 pages
Publisher: Vintage Publishing
Publication Date: 01/12/2014
ISBN: 9781846559211
Free Home Delivery
on all orders
Pick up orders
from local bookshops
Reviews
Showing 1 - 3 of 3 reviews.
Review by pgmcc
16/06/2015
I have just finished reading Haruki Muakami's Strange Library. It is a very interesting little tale that, like all the Murikami I have read, can be interpreted in different ways. Themes I found in it include the effect of one's upbringing; loneliness; reaction to authority; abuse of authority; fear; resilience of youth; focus on trivia; loss.Apart from the story the physical book is beautiful. I would suggest it is experimental. It is a small, hardback book containing a short story. The book layout and images make for an interesting reading experience. Format wise it is short story edging towards illustrated rather than graphic novel, albeit using several elements drawn from graphic novels.I would suggest it is a book for people familiar with Murikami's work or as a gift to others. I enjoyed it.
Review by TheWasp
27/08/2015
Short story on loss and separation. Reads like a children's book and is interspersed with illustrations but i'm not sure if children would get it. I'm not sure i got it
Review by Eyejaybee
16/06/2015
This long short story (or novella? - I am not sure where one ends and the other begins) was very disappointing. This edition was sumptuously produced, though now I am wondering whether the elaborate packaging was a ruse to try to hide the weakness of the story itself. It certainly fell far short of the very high expectations I now have of Murakami's works. I imagine he probably just dashed this off in a hurry one morning, probably rushing to meet a publisher's deadline, and never got around to polishing it. We all have bad days at the office, but most of us don't broadcast them to the world.If this had been the first Murakami work that i had read it is extremely unlikely that I would have gone on to try anything else by him, which would have been a great shame given the mastery of his novels such as '1Q84' or 'Kafka on the Shore'