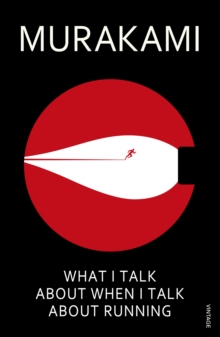 What I Talk About When I Talk About Running
Paperback
Description
In 1982, having sold his jazz bar to devote himself to writing, Murakami began running to keep fit.
A year later, he'd completed a solo course from Athens to Marathon, and now, after dozens of such races, he reflects upon the influence the sport has had on his life and on his writing.
Equal parts travelogue, training log, and reminiscence, this revealing memoir covers his four-month preparation for the 2005 New York City Marathon and settings ranging from Tokyo's Jingu Gaien gardens, where he once shared the course with an Olympian, to the Charles River in Boston.
Funny and sobering, playful and philosophical, What I Talk About When I Talk About Running is a must read for fans of this masterful yet private writer as well as for the exploding population of athletes who find similar satisfaction in distance running.
Information
Format: Paperback
Pages: 192 pages
Publisher: Vintage Publishing
Publication Date: 01/03/2009
Category: Memoirs
ISBN: 9780099526155
Other Formats
EPUB from £4.99
CD-Audio from £10.29
Free Home Delivery
on all orders
Pick up orders
from local bookshops
Reviews
Showing 1 - 5 of 9 reviews.
Previous | Next
Review by tronella
16/06/2015
As with any book of Murakami's, this was really easy and relaxing to read. It was interesting to read a non-fiction work by him, too, especially such an autobiographical one. It's really a series of essays about running, how he took up the habit and his training for and participation in marathons and triathlons. I don't really have much interest in running marathons, but reading this book definitely put me in the mood to go outside and do some exercise.
Review by evaberry
16/06/2015
Murakami gives rather a narrow view of the world of running, but then he never claims that the book will be anything other than an account of his own experiences of the sport (an no one else's). Probably not many people share his rigorous and disciplined approach to running, but it is still interesting to read about. The style is occasionally repetitive and somewhat plodding, but this is countered by a few extremely evocative and apt images and metaphors that reflect the author's imaginative novelistic style.
Review by gward101
16/06/2015
As a dedicated believer in the virtues of a life spent firmly attached to the sofa the nearest I'm ever likely to come to running a marathon is running a bath. Haruki Murakami's memoir of his marathon-running exploits may, therefore, seem like an odd choice of book for me. Just the descriptions of some of the things he has put his body through were enough to bring me out in a sweat. An ultra marathon anyone? In fact if anyone else had written this book I wouldn't have given it a second glance, but this is Haruki Murakami - probably my favourite current author. Since reading The Wind Up Bird Chronicle about six months ago I've raced through the author's novels and short stories and am so enamoured that I'm moving on to the non-fiction works that I probably wouldn't otherwise read. While I can't say that What I Talk About When I Talk About Running left me with the same sense of wonder that his fiction does, I can say that it gave me an insight into the way Mr Murakami approaches his life and his writing. My favourite snippet of information from the book? The fact that when he was translating John Irving's Setting Free the Bears the only way the two could find the time to meet up was to go running together. Now if only I could eavesdrop on that conversation even I might be persuaded to pull on a pair of running shoes.
Review by dazzyj
16/06/2015
A strange memoir describing the part that running has played in Murakami's life. Strange because it is a curiously simple, almost naively written account, with the prose coming across as rather flat. Still, if you are interested in running (like I am) you will find it to be a moderately engaging way to spend a few hours.
Review by edwinbcn
16/06/2015
The title of Haruki Murakami's memoir, What I talk about when I talk about running, seems unnecessarily long and clumsy. It was modeled after the title of a collection of short stories, What we talk about when we talk about love by Raymond Carver. It's somewhat cyclical, repetitive structure is indicative of the structure of the memoir.Referring to the composition of the memoir, the author suggests that he wrote it intermittently over a number of months in 2005. This may be true and untrue. The first five chapters and chapter 7, were written between 5 August and 31 October 2005. Chapter's six, eight and nine were written in June, August and October 2006. The foreword and afterword were written in July 2007. Written intermittently, indeed. The quality of all chapters is somewhat varied. Some may have been written or rewritten for publication, possibly with this title in mind, while others may have been occasional pieces or even diary entries. This is not explained. However, as a result the books has a very weak structure, and is repetitive.The book is not very focused. Besides running, it talks about a lot of other things. Biographical data about the author's life before he started writing, were interesting to read, describing how he ran a bar and gradually developed his career as a writer. He writes about his own writing as well as translating the work of Raymond Carver into Japanese. Many descriptions of his running are set in the United States, particularly referring to the NYC Marathon. There are some interesting observations on how he developed the skill and endurance to run a marathon.A light, entertaining, somewhat unbalanced read.