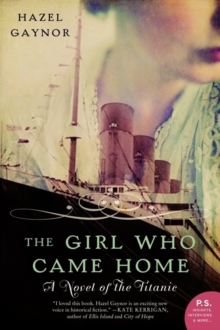 The Girl Who Came Home : A Novel of the Titanic
Paperback
Description
Inspired by true events, the New York Times bestselling novel The Girl Who Came Home is the poignant story of a group of Irish emigrants aboard RMS Titanic-a seamless blend of fact and fiction that explores the tragedy's impact and its lasting repercussions on survivors and their descendants.Ireland, 1912.
Fourteen members of a small village set sail on RMS Titanic, hoping to find a better life in America.
For seventeen-year-old Maggie Murphy, the journey is bittersweet.
Though her future lies in an unknown new place, her heart remains in Ireland with Seamus, the sweetheart she left behind.
When disaster strikes, Maggie is one of the lucky few passengers in steerage who survives.
Waking up alone in a New York hospital, she vows never to speak of the terror and panic of that terrible night ever again.Chicago, 1982.
Adrift after the death of her father, Grace Butler struggles to decide what comes next.
When her Great Nana Maggie shares the painful secret she harbored for almost a lifetime about the Titanic, the revelation gives Grace new direction-and leads her and Maggie to unexpected reunions with those they thought lost long ago.
Information
Format: Paperback
Pages: 384 pages
Publisher: HarperCollins Publishers Inc
Publication Date: 01/04/2014
ISBN: 9780062316868
Other Formats
EPUB from £5.49
eAudiobook MP3 from £18.74
Free Home Delivery
on all orders
Pick up orders
from local bookshops
Reviews
Showing 1 - 5 of 23 reviews.
Previous | Next
Review by WizardsofWorch
16/06/2015
This was not really a YA book but was well suited to YA.
Review by Cherylk
16/06/2015
What a wonderful story author, Hazel, has weaved in The Girl Who Came Home. Maggie was a great character. For me she is what really made this book special. I did not really care about what most of the other people in this book. Well except for Harry, Maggie's friend, Peggy, and Grace, which is pretty much the main group of characters in this book. Although, I was not so much into Grace in the beginning. But as the story progressed and I got to know Grace better, I warmed up to her. What a happy ending for all. There is nothing you can do to really improve on for such a well known subject matter as the Titanic. The only thing you can really do is bring the story to life with good characters. Which as I stated before, I thought the author did a nice job in this area. As I was reading this book, I felt like I was one of the passengers on the Titanic. I could picture the upper class deck that Maggie walked on, saw the dining room, pictured her room in the lower deck, felt the water spray on my face, and could feel the cold water and the screams of fear. I look forward to reading more books from this author.
Review by grumpydan
16/06/2015
Maggie Murphy is 87 years old and a survivor of the Titanic, but has never spoken about it until now. She decides to share her story with you great-grand daughter Grace. What unfolds is a truly an inspirational story of love and second chances.Hazel Gaynor has taken facts about the Titanic tragedy and a group of women who left Ireland to find a better life in America and interwoven into this wonderful story of these women then and now. I really enjoyed how she added actual copies of telegraphs that were sent before the beginning of each chapter. As the story changes back from 1912 to 1982, I ached to find out what would happen. We all know what happened with the Titanic but I was curious to know about the characters involved. Very enjoyable story.
Review by dpappas
16/06/2015
"Life is fragile, Grace-it is no more than a petal of cherry blossom: thriving and in full bloom one minute and blown to the ground by a sudden gust of wind the next."Oh the emotions that this book made me feel. I knew that this was going to be an emotional book, I mean it is about the Titanic of all things, but this was just such a beautiful book. This book was inspired by the Addergoole Fourteen who left Ireland on the Titanic, eleven of which perished in the disaster.This book mainly switches point-of-view between Maggie and her great-granddaughter Grace. It also does switch point-of-view between other characters that were on the Titanic and some of their relatives. I loved reading about Maggie and her voyage to America when she was only 17. It is absolutely heartbreaking to think that the things she experienced in this book many in real life experienced as well. To go from the only place she knows at home and to end up in a foreign land having just lost friends, family, and familiar faces was an unimaginable blow. Not only that but leaving the man that she loves behind.I wasn't really as interested in Grace's story as Maggie. After all that Maggie has gone through it kind of felt like Grace's experiences paled in comparison. I did really enjoy getting to see Grace and Maggie bond over Maggie's story.I loved reading from the point-of-view from others on the ship (especially Harry) and the other characters besides Grace and Maggie. It really enhanced the story to see these events from the other character's point-of-views.The ending just left me in chills and sobbing. It was just so beautiful and it was a twist that I have to say I didn't see coming. I felt stupid for not seeing it coming but I absolutely loved the twist and the ending.I would highly recommend this book to anyone looking to read a great historical fiction book about the Titanic from the perspective of someone who was in the 3rd class on the ship.[I received this book from a Librarything Early Reviewers giveaway. The content of my review is in no way affected by that.]
Review by Kimaoverstreet
16/06/2015
Maggie Murphy, a recently orphaned Irish teen, is leaving her small village to emigrate to America with her spinster aunt. She will travel aboard the Titanic on its doomed maiden voyage. Seventy years later, her great-granddaughter, Grace Butler, struggles to find her way forward in life after the death of her beloved father. The stories of these two women (and a few more minor characters) are woven together in Hazel Gaynor's fiction debut, The Girl Who Came Home: A Novel of the Titanic.Originally self-published before being picked up by William Morrow, the story is highly readable and fairly light. It should appeal to readers of Victoria Hislop and Rosie Thomas, and would be a nice vacation book.I found parts of the tale to be overly contrived and the language a bit "cheesy" at times, generally leaning more towards chick lit than literary fiction. While I would have preferred more in the way of plot and character development, I did find the reading of this novel a pleasant way to pass a rainy day indoors.