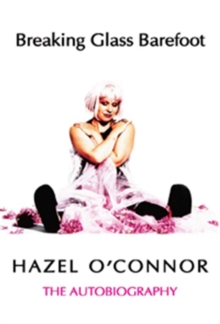 Breaking Glass Barefoot
Paperback
Description
Hazel O'Connor has loved and been loved, but her generosity and spirit of adventure have often come back to bite her. She would not have it any other way. This is a story not just of the music business, its intense joys and spectacular lows: it is the story of a beautiful teenage runaway, a soldier's daughter who fought her own battles and those of people she cared for. Born inaA A Coventry to English-Irish parents, Hazel's early years were a mixture of adventure and tragedy, which included performing in a dance troupe in Japan and Beirut (escaping after the first bombs fell during the war), as well as travels throughaA A Africa: A time of mixed blessings for the youngaA A Hazel who experienced both rape and abortion.
By the mid seventies Hazel was back inaA A England trying to find her way in an ever-changing musical environment, and before long was hanging out with the likes of Mick Jones of The Clash, and Glen Matlock from the Sex Pistols. As one decade segued into another Hazel was suddenly plucked from obscurity to not only star in the 1980 film Breaking Glass but to also compose all the songs, including the hits "Eighth Day" and "Will You."Achieving instant success prompted Hazel to say, 'I was twenty-one and I felt like my whole life was behind me.' But nothing could be further from the truth. Hazel's career has been a roller coaster ride ever since that has included fascinating friendships, and relationships with The Stranglers' Hugh Cornwell, and Ultravox's Midge Ure.
Her career as both a musician and actress through the past thirty years has also involved encounters with DavidaA A Bowie, Tony Visconti, Duran Duran, Jesse Birdsall and Neil Morrissey amongst others. Hazel was even driven around Ireland during her early career by a young Louis Walsh; played Boggle with Bob Geldof and taught Elton John to balance a spoon on the end of his nose! The press even described her as George Michael's girlfriend! After a failed marriage where she lived in Los Angeles, Hazel now divides her time between Ireland andaA A France whilst still delighting audiences and touring extensively throughout Europe. BreakingaA A Glass Barefoot, her first, full autobiography captures all the ups and downs of a life of adventure and trauma, sadness and celebrity, which speak to anyone who has ever followed their heart.
Information
Format: Paperback
Pages: 276 pages
Publisher: Wymer Publishing
Publication Date: 20/10/2014
ISBN: 9781908724229
Free Home Delivery
on all orders
Pick up orders
from local bookshops