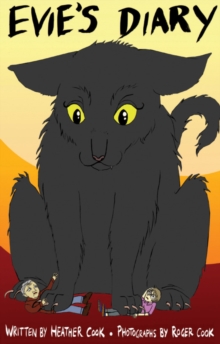 Evie's Diary : A Bad Cat's View of Life
Paperback / softback
Description
What do people think it's like living with an over-sexed, ginger pumpkin, two mad humans and a cast of feline misfits?Forget about caring cats and hero cats; Evie is a bad cat with a bad cat's view of life.
She is small, smart and black and lived wild until she was caught by the lumpy old cat rescuer who ended up adopting her.
Evie's Diary reveals her contempt for her fellow felines and for her humans, the Earth Mother and Poor Roger, who are no match for Evie's manipulative little brain.
Evie finds herself living with a weird array of felines, including Benjamin Wobble, a porky ginger boy with mobility problems, Bella, a Persian resembling a hairy beetroot and the ancient, fur-covered coathanger, Bonnie Bun-Bun.
Evie has harsh things to say about these creepy cats that suck up to the humans in return for goodies and cuddles, but has a grudging admiration for the wild cats that rampage around the garden.
The Earth Mother is involved in rescuing unwanted cats and kittens on behalf of the local Cats Protection Branch and Evie delights in tormenting the numerous waifs and strays.
Occasionally, she is impressed by the appalling behaviour of these temporary residents, such as Frank, the blue-eyed vandal that imprisons the Earth Mother in the garage, and Griselda, the gorgeous girl that specialises in remodelling people's faces.
The real worry, of course, is the power exercised by such a dreadful cat over the Earth Mother and Poor Roger, proving once and for all that humans are well down the pecking order and should just be grateful that cats like Evie condescend to share their lives... Evie's Diary is a humorous work of adult fiction, narrated from a rescue cat's point of view, that will appeal to feline lovers everywhere.
Author Heather Cook has been inspired by James Herriot's All Creatures Great and Small.
Information
Format: Paperback / softback
Pages: 90 pages
Publisher: Troubador Publishing
Publication Date: 01/12/2012
ISBN: 9781780883274
Also by Heather Cook