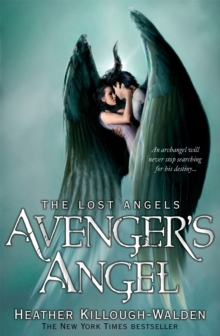 Avenger's Angel
Paperback
Description
For fans of J. R. Ward, Nalini Singh and Charlaine Harris, the first novel in The Lost Angels from New York Times bestselling author Heather Killough-Walden.
Are you ready to meet the angels of your dreams? Four thousand years ago, four archangels were cast down to Earth in human form.
The Old Man's favourites, they came to find their mates, the other half of their souls made only for them, without whom they will ever be complete. Uriel, Gabriel, Azrael and Michael, however, were not alone.
They were followed by another, determined to find the archesses for himself, and whose power cannot be underestimated.
But after centuries of fruitless searching, the archangels - and their enemy - have all but given up hope.
Until one day beautiful and gifted Eleanore Granger crosses paths with Uriel, the Angel of Vengeance. And as a storm rages, outside forces conspire together, initiating an age old battle of good versus evil to win the first archess. The Lost Angels will compell you into a world of desire, danger and devastation.
Read the whole series: Always Angel, Avenger's Angel, Messenger's Angel, Death's Angel, Warrior's Angel and Samael.
Information
Format: Paperback
Pages: 432 pages
Publisher: Headline Publishing Group
Publication Date: 01/11/2011
ISBN: 9780755380374
Free Home Delivery
on all orders
Pick up orders
from local bookshops
Reviews
Showing 1 - 2 of 2 reviews.
Review by GeraniumCat
16/06/2015
This book made me feel my age! There's clearly lots of potential in a novel about angels still being around centuries after the Fall, and possibly having an agenda of their own, but for me this one didn't work. I really wanted it to, and persevered long after I'd normally have given up, but I didn't find the angels compelling, I don't like predestined relationships and I had real trouble with the word "archess". But I don't think I was the kind of pernickety reader the author had in mind and, even while being irritated, I could see that this is a book that some readers are going to love. The other reviews here give a good idea of what to expect. If your idea of "romance" is more Don Quixote than chicklit, then maybe you shouldn't bother!
Review by NerdyBookReview
16/06/2015
Personally, I found rating this book difficult. Parts of it were brilliant and other parts I felt lacked the intensity and excitement it promised. Ellie was a character I didn't really connect with, which was probably the main problem of the book for me. Her character was very absorbed with helping other people and as much as this is an admirable trait, I felt it was overly emphasised. Not until the end did she seem to centre herself on the person who was the 'other-half' of her soul, Uriel. She placed all the characters in danger and herself too much, by healing people in the middle of the street. This was the main confusion point for me, since she always talked about staying away from the centre of attention and worrying over these matters, it seemed irresponsible and a contradiction to her character to throw herself into that turmoil. However, by the end she'd reached a reasonably, redeemable level with me because of her participation and defiance she showed as a strong character. Despite her being a strong female lead, she swooned too much for me over the 'hot' angels in the story and allowed herself to be side-tracked from her strong female lead. In parts she showed great potential at being a feisty heroine when she used her own powers to battle, but then she flopped with her swooning between Uriel and Samael, when the end seemed rather inevitable. Uriel was a character I liked a lot by the end. At the start he seemed rather to up-front and arrogant, by the end he'd fallen to a reasonable level of arrogance balanced with redemption over actually thinking before he acted. This was something all the characters except Samael failed to achieve, thinking. Uriel had a very dominant personality that I loved, and it added to the intensity in the centre of the novel that really increased the romance. A redeeming quality for me about the novel was although the romance was a leading plot line, it didn't centre on being overly explicit or fluffy with the romance. It was balanced well with the action and sub-plot lines. The internal dialogue and conflict did play a large part of the novel, which could have probably been reduced in areas, however it added to the feel of getting into the characters heads and understanding their predicaments. Despite the problems I found with the book, I fell in love with Samael's character. However he is poised as the 'villain' of the story, along with several others and this made me feel rather uncomfortable that he grew so much upon me. I'm not entirely sure if this is intentional on the author's part or merely an error on her part. I'm assuming it was intentionally and I hope to see further plot development on his character because despite the other novels, which I assume will show the tales of the other three brothers, Samael has a story to tell that I will be excited to read. The book certainly had a religious context that surrounded it, but it wasn't explicitly emphasising religion, rather the history and beliefs of angels and God's decisions and angels he's made. It made for an interesting read because I thoroughly enjoy different interpretations of angels and archangels. The book certainly made me turn the pages, and I think the book finished in a respectable place that prevented it from being overly long. Overall a read that I enjoyed and would recommend to fans of the angel genre.
Also by Heather Killough-Walden | View all