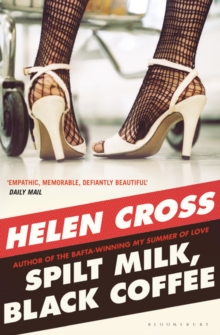 Spilt Milk, Black Coffee
Paperback
Description
Handsome Amir, somewhere in his twenties, somewhere in a Yorkshire town, is torn between duty and lust.
While his tradition-bound family urges him to choose a wife from a parade of blank and bashful beauties, he remains a slave to boozy blonde goddess Jackie, his fellow-worker at the department store in town.
Pushing forty, with bubblegum hair and a filthy laugh, Jackie is an unlikely muse.
She is openly entertained by Amir's teetotalism and moral sincerity, but behind her whip-smart wit is a forgiving and optimistic heart. And, he sighs, she has a smile that lingers in the air like smoke.
Meanwhile, at home, Amir must dodge his family's plans for him to join the family newsagency business, 'Fags n Fings', and tenderly care for his beloved, but increasingly demented, mother.
Sensitive, sassy, exasperated, twelve-year-old Elle lurks in a black hoody and crops her hair to look as unlike her flamboyant mother as possible.
She avoids the spiteful girls at her Catholic school, and leads a double life: raucous ballads of the seventies with wine-soaked Jackie; organic raisins and stately homes with perfect Claire, her father's faultless new wife. In a northern town rife with racial tension and tabloid outrage, "Spilt Milk, Black Coffee" is an hilarious, beguiling and unlikely love story.
A romantic comedy of twenty-first century multi-cultural Britain, this is an irresistible novel from the prizewinning author of My Summer of Love.
Information
Format: Paperback
Pages: 288 pages
Publisher: Bloomsbury Publishing PLC
Publication Date: 03/05/2010
ISBN: 9781408801079
Free Home Delivery
on all orders
Pick up orders
from local bookshops
Reviews
Showing 1 - 2 of 2 reviews.
Review by LyzzyBee
16/06/2015
04 Dec 2010 - charity shopJackie is a brassy, unrepentant blonde, the kind of woman you see in the papers because she's left her kids home alone and gone on holiday. In fact, that's exactly what she's done. Her colleague Amir is torn between lust - and something else - for Jackie and the demands of his family. Narrated in the beautifully-delineated voices of Amir, his brother, and Elle, Jackie's daughter (it's fascinating to see her developing knowledge about the world around her), this is lyrical, evocative, sharp and defiant - a page-turner and a work of inventive and expressive literature.It reminded me a bit of "Beauty" by Raphael Selbourne with the northern/midlands setting and range of characters.Highly recommended and will be sending it out on a bookring.
Review by jayne_charles
27/08/2015
In this book we meet Jackie, a Northern woman of dubious morals, blonde hair, a tendency to drink too much and flit from one unsuitable sexual partner to another. This is no time to get prissy about negative stereotypes because from first to last this book is hilarious, a top quality read from an author who packs punch into every single sentence.The prose has the same effect as a hard-core fairground ride: it picks you up, spins you around, leaving you breathless and a little hysterical. There are so many brilliant lines that would make me smile every time I thought of them, if my brain were only big enough to hold them all at once.The story is told via a series of first person narratives from three characters, never Jackie herself, though she is clearly the central character, a larger than life figure who brings colour and chaos to every scene she inhabits. All the voices were skilfully written – in particular 12 year old Elle has just the right combination of brashness and bewilderment to make her totally believable. What a great book – sharp, insightful, funny and it made its points subtly rather than attempting to moralise. I had the best time reading it – if I read a better book in 2015 it will be miraculous.