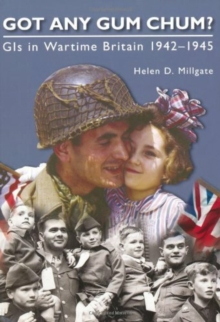 Got Any Gum Chum? : GIs in Wartime Britain 1942-1945
Paperback / softback
Description
When the first American servicemen arrived in England in March 1942, the indigenous population greeted their presence with mixed feelings.
A certain level of resentment of these newcomers was harboured by the English and expressed by many in the in the well-worn phase of the time 'over-paid, over-sexed and over here'.
But without the presence of American servicemen in Britain and its huge military and industrial muscle, the war with Germany would probably have been lost.
Using a combination of contemporary eyewitness and documentary sources plus latter-day interviews, linked together by engaging narrative, Helen Milligate takes a look at the background to 'the friendly invasion' - where they all came from, who they were, where they were stationed and what they did.
She examines how the 'Yanks' got on with the locals, how they fitted in (or didn't), their impact on the social structure of England in the 1940s, the problems they brought with them and their impressions of England.
She concludes with the journey home once the war in Europe had ended, describing what the Yanks left behind them and the wives and sweethearts they took 'stateside'.
Information
Format:Paperback / softback
Pages:128 pages
Publisher:The History Press Ltd
Publication Date:20/04/2009
Category:
ISBN:9780752450230