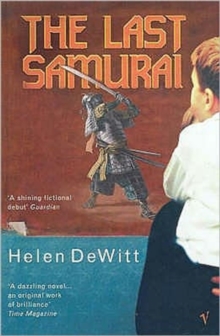 The Last Samurai
Paperback
Description
Sibylla, a single mother from a long line of frustrated talents, has unusual ideas about child rearing.
Yo Yo Ma started piano at the age of two; her son starts at three.
J.S. Mill learned Greek at three; Ludo starts at four, reading Homer as they travel round and round the Circle Line.
A fatherless boy needs male role models; so she plays the film of Seven Samurai as a running backdrop to his childhood.
While Sibylla types out back copies of Carpworld to pay the rent, Ludo, aged five, moves on the Hebrew, Arabic and Japanese, aerodynamics and edible insects of the world - they might come in handy, if he can just persuade his mother he's mature enough to know his father's name.
He is bound for knowledge of a less manageable sort, not least about his mother's past. And at the heart of the book is the boy's changing relationship with Sibylla - contradictory, touching and tender.
Information
Format: Paperback
Pages: 496 pages
Publisher: Vintage Publishing
Publication Date: 04/10/2001
ISBN: 9780099284628
Other Formats
EPUB from £3.99
Paperback from £12.65
Free Home Delivery
on all orders
Pick up orders
from local bookshops
Reviews
Showing 1 - 4 of 4 reviews.
Review by cestovatela
16/06/2015
A boy genius raised in isolation by his genius mother sets off to find his absentee father. The young protagonist's journey from one potential parent to another are entertaining and I enjoyed the twist at the end, but on the whole, the book didn't quite come together.
Review by Pferdina
16/06/2015
Quite complex but excellently conveys the excitement and pleasure of learning. The book is about single mother Sibylla and her young son Ludo who are living in London. Ludo is a genius. Sibylla intends to stimulate him by teaching him a second language at an early age, but this unleashes an unstoppable force which is always hungry for more. After several languages (Arabic, German, Hebrew, Greek...) and a lot of mathematics, he also begins to study sciences. He reads everything. Sibylla fears the effects of growing up without a male role model so introduces Ludo to the classic Japanese film "The Seven Samurai" in the belief that the characters as well as the director will substitute for his absent father. The film provides a unifying theme throughout the book. Later, when Ludo is about ten years old, he becomes interested in meeting his father and the remainder of the book relates his adventures with several candidates as well as what he learns from this project.The book is written in an unusual style. The first part is mainly from Sibylla's point of view and it is almost stream-of-consciousness. Apparently, the author has no need for quotation marks to set off dialog. Further along, Ludo's voice is heard more and more until the book is entirely from his point of view and Sibylla becomes less and less involved. It was a bit difficult to get used to this style at first, but afterwards it was very quick-moving and pleasant.I think the book conveys the real pleasure of learning things. When Sibylla and Ludo are discussing languages or comparing their grammars, the detail is very satisfying. One can be amazed that, not only do the terms for such things exist, but that people know and use them to talk about language. The mathematics and science is weaker, more superficial (such as the references to "learning the periodic table" and recitations of the properties of the elements--atomic number, stable isotopes, boiling point--instead of any actual chemistry) presumably due to the author's own lack of familiarity. At one point there is an error when a minor character is described as sharing a Nobel Prize for Physics with three others; as far as I know, a maximum of three people may share a Prize in any field. However, this is not important to the story and most readers would never notice.Highly recommended for those who like a good story with interesting characters and who do not mind something a little different.
Review by girlunderglass
16/06/2015
Recommended for: fellow whizkid-lovers!, fans of the Glass family, people interested in foreign languages, education, and child-rearing, people who like bildungsromans, smartasses.I have mentioned my obsession with whizkids many times before, although now that I think of it, it was never on this site. So then you won't mind if I repeat myself. Here goes. I LOVE WHIZKIDS. There is possibly no subject matter in the world more certain to get my attention. If you happen to mention in passing a movie that has a child prodigy protagonist in it, or a child prodigy secondary character, or possibly even a child prodigy chimney sweeper that only appears for five seconds during the entire movie, chances are I'm gonna watch it. This all started years ago with Salinger's Glass family, my favourite favourite favourite fictional characters which no one has yet – and probably never will – manage to dethrone. There were many whizkids I fell in love with after that. Stanley Spector from Magnolia, Klaus and Violet from the Series of Unfortunate Events, Dexter from Dexter's Laboratory, Brain (Pinky & the Brain – although not exactly a "child"), Hermione Granger, Velma, Teddy and Esme and more recently (recently for me) Joshua Waitzkin from Searching for Bobby Fischer. Like I said none of these will probably be able to dethrone Seymour and Zooey Glass from their no.1 spot. But Ludo, age seven, child prodigy and the protagonist of The Last Samurai sure comes in a close second. I loved this boy with all my heart. And though usually when people say they love a kid they only mean it in a "aww he's so cute" way, I mean it in a "aww he's so cute and smart and interesting and brilliant and damaged and fantabulous and loveable and heartbreaking and great and can-I-please-please-please-order-one-just-like-him-somewhere?"I want to make one thing clear in case you were wondering: the title coincides with the title of a known Hollywood movie with Tom Cruise in it. That is just an unfortunate accident . The book in fact takes its title from another movie: Kurosawa's Seven Samurai. The relationship between Seven Samurai and this book is not so straightforward as the back cover would have you believe. Yes, there is the obvious plot connection: Sibylla, Ludo's mother is worried about her son growing up without a role model since his father is ignorant about his existence, so she decides to play the movie every day for him in order to give him not one but 8 male role models: the seven samurai and Kurosawa himself! But the relationship between book and movie is much more complex than that. There are beliefs and ideologies embedded in the movie that have become part of who Ludo is. There are life lessons to be had from it. There are languages to be learned. There are words of wisdom to be memorized and repeated. There are fictional characters that become real friends. The complexities of the parallel that DeWitt is trying to draw between the two is mostly up to the reader to figure out. I don't want to say anything more because I don't want to spoil this wonderful novels for anyone. Suffice to say, The Last Samurai ties with I Know This Much Is True for my top reads of 2009. Go read it.
Review by booksbooks11
16/06/2015
I wasn't going to review this but none of the other reviews really said what I want say. I was disappointed by the book in a few ways. FIrstly it's quite disjointed, the first half set in America about her parents and so on is almost a different book from the later half in England. I did enjoy toying with the idea of such a child genius and although it was taken rather too far to be realistic I think that was part of the point of it. Not being particuarly multilingual myself I did wonder about all the harping on about different languages, was DeWitt trying to display something of that genius herself and trying a little too hard for me. It may have taken me a while to twig to the enivitiability of the seven fathers but I really did groan with dismay and started flicking pages after about number four. The fathers got more and more fanciful and less connected to the real world, so I became less interested in the book. I nearly gave up at this point but being nearly at the end made it through, it was worth it but mainly because it filled most of a boring plane trip.