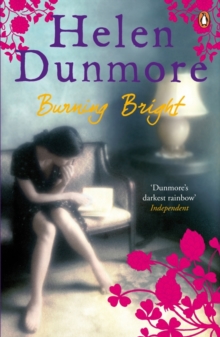 Description
Burning Bright is bestselling author Helen Dunmore's second novel. When Nadine runs away to London, innocence and corruption collide ...Nadine, a sixteen-year-old runaway new to London, is set up in a decaying Georgian house by her Finnish lover, Kai.
Slowly, she begins t suspect that Kai's plans for her have little to do with love. 'Be Careful,' warns Enid, the elderly sitting tenant in the house, who knows all about survival and secrets. And when Nadine discovers Kai's true intentions, Enid's warning takes on a terrible and prophetic quality. 'A story of terrible innocence' Independent on Sunday 'The denouement is mesmerizing.
One goes on addressing the problems of evil which Dunmore raises, long after one has finished her electrifying book' Sunday Times 'Outstanding. The plot unfolds with both tension and inevitability as Dunmore plays off past against present, rubs together contemporary themes of urban corruption with far-off memories of taboo passion' Sunday Telegraph Helen Dunmore has published eleven novels with Penguin: Zennor in Darkness , which won the McKitterick Prize; Burning Bright; A Spell of Winter, which won the Orange Prize; Talking to the Dead; Your Blue-Eyed Boy; With Your Crooked Heart; The Siege, which was shortlisted for the 2001 Whitbread Novel of the Year Award and for the Orange Prize for Fiction 2002; Mourning Ruby; House of Orphan; Counting the Stars and The Betrayal, which was longlisted for the Man Booker Prize 2010.
She is also a poet, children's novelist and short-story writer.
Information
Format: Paperback
Pages: 272 pages, no pictures
Publisher: Penguin Books Ltd
Publication Date: 27/03/2008
ISBN: 9780141033945
Free Home Delivery
on all orders
Pick up orders
from local bookshops
Reviews
Showing 1 - 2 of 2 reviews.
Review by katiekrug
16/06/2015
"She didn't wonder where he'd gone, or how long it would be before he came back. She was unsuspicious. You can't get it back once it's gone, that stupor of trust." (page 110)Helen Dunmore won the Orange Prize for A Spell of Winter which is one of the creepiest books I can remember reading. Burning Bright, her second novel, is right up there now. Throughout my read, I was accompanied by a sense of foreboding and gently increasing tension as the story of a sixteen year old girl, her older boyfriend, and an old lady unfolded. The perspective and narrative shift constantly, sometimes within the same chapter, and it was difficult to establish a connection with any of the characters. They are all flawed in some way (some more than others), but this story of loss of innocence and establishment of personal identity was very compelling in its own quiet way. 3.75 stars
Review by jayne_charles
16/06/2015
This is the fourth Helen Dunmore I've read and I'm still waiting for one that lives up to the excellent 'The Siege'. To give this one its due, it has a more dramatic plot than many of her others if you boil it down to its essence, but there is the usual literary padding that separates the main events and makes it much less nail biting than it might have been in the hands of a different author.Point of view is handled in an unconventional manner – changing from one character to another within a single section. At one point a character seems to hi-jack the narrative, moving from third person to first person without a section break, 'she' suddenly becoming 'I'. That's the sort of thing that would have an amateur author sent back to school but if you're Helen Dunmore you can do as you please!I found so many questions floating around my head as I was reading it. Where was the house situated? (the blurb suggests London, but it seemed not). Was Nadine really 16? Her thought processes and analysis of events felt like those of a much older person. And was the Finnish character only Finnish in order to exercise the author's undeniable knowledge of that country?I'm always surprised, but perhaps shouldn't be, that older characters are often the best in books. So it was with this one. Enid the sitting tenant with experimental tastes and an interesting past, was one of the two major plus points of the book for me. The other was the way I was never sure which direction the story was heading, a fact that kept me reading through the less eventful sections.