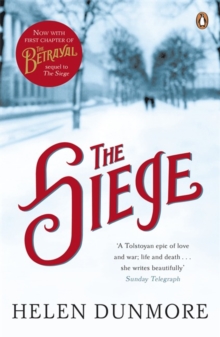 Description
Helen Dunmore follows the lives of four ordinary people, united by love, trying to survive the siege of Leningrad in her powerful historical novel The Siege. Leningrad, September 1941. Hitler orders the German forces to surround the city at the start of the most dangerous, desperate winter in its history.
For two pairs of lovers - Anna and Andrei, Anna's novelist father and banned actress Marina - the siege becomes a battle for survival.
They will soon discover what it is like to be so hungry you boil shoe leather to make soup, so cold you burn furniture and books.
But this is not just a struggle to exist, it is also a fight to keep the spark of hope alive...The Siege is a brilliantly imagined novel of war and the wounds it inflicts on ordinary people's lives, and a profoundly moving celebration of love, life and survival. 'Remarkable, affecting...there are few more interesting stories than this; and few writers who could have told it better' Rachel Cusk, Daily Telegraph 'Literary writing of the highest order set against a background if suffering so intimately reconstructed it is hard to believe that Dunmore was not there' Richard Overy, Sunday Telegraph 'Utterly convincing.
A deeply moving account of two love stories in terrible circumstances.
The story of their struggle to survive appears simple, as all great literature should. . . a world-class novel' Antony Beevor, The Times Novelist and poet Helen Dunmore has achieved great critical acclaim since publishing her first adult novel, the McKitterick Prize winning, Zennor in Darkness.
Her novels, Counting the Stars, Your Blue-Eyed Boy, With Your Crooked Heart, Burning Bright, House of Orphans, Mourning Ruby, A Spell of Winter, and Talking to the Dead, and her collection of short stories Love of Fat Men are all published by Penguin.
This edition includes the first chapter of Betrayal, the sequel to The Siege.
Information
Format: Paperback
Pages: 320 pages
Publisher: Penguin Books Ltd
Publication Date: 30/05/2002
ISBN: 9780241952191
Free Home Delivery
on all orders
Pick up orders
from local bookshops
Reviews
Showing 1 - 2 of 2 reviews.
Review by birdsam0610
16/06/2015
I came to read The Siege in rather a roundabout way. I bought the sequel, The Betrayal, at Singapore's Changi airport with my last Singaporean dollars due to its interesting cover and its Stalinist Russia setting. Settling in to read this book at home the next day, my first thought was 'Uh-oh! Sequel!' Thanks to the wonders of ebooks and the interest, I was able to download The Siege from Kobo and start reading in under 10 minutes. A store can't beat that!The Siege covers the Leningrad siege during World War II – the winter of 1941/42 to be precise. We start as the war becomes closer to Leningrad through the eyes of the Levin family – Anna, her father Mikhail and younger brother Kolya. Anna's mother died in childbirth and Anna has had to miss university and take up a position as a nursery school assistant while looking after Kolya. She is the practical one; her father is a writer and dreamer, eternally watching and waiting to be taken away as he has fallen out of favour with the government. As things worsen, Anna is forced to search for food, ending up in strange and dangerous circumstances. Mikhail is injured and is looked after by his former flame, Marina. Fortunately for Anna, there is one bright spot in her life: Andrei, a medical student. But will they survive the siege?While I didn't find the portrayal of the siege as harrowing as that in The Bronze Horseman (probably because I knew what was going to happen) it was still powerfully written and it's a testament to Helen Dunmore that I carried on straightaway with The Betrayal. It's written in the present tense, so it's like the plot is unfolding before you, like a play. This does make it seem a little detached at times, but the tone of starvation and fear still comes across very powerfully.
Review by brokenangelkisses
16/06/2015
Sometimes, our reading choices benefit from external guidance, which is one of the reasons I'm a member of a book group. Recently, one of my group recommended that I read Helen Dumore's 'The Siege'. I wasn't convinced - my reading pleasures do not usually stretch to books described by the Sunday Telegraph as 'a Tolstoyan epic of love and war' - so I began reading the book out of a vague sense of obligation; I ended it with a sense of gratitude - to the author, who made what could have been Yet Another War Story beautiful and genuinely moving, and to the acquaintance who insisted I would enjoy it.What's it about?In September 1941, Hitler ordered the German forces to surround Leningrad and have it 'wiped from the face of the earth'. This chilling directive opens a powerful story that focuses primarily on the survival of a few individuals living in Leningrad at the time of the bombardment. Forced to burn books to avoid frostbite and boil shoe-leather to stave off starvation, Dunmore's characters struggle not just to exist, but to want to continue existing.What's it like?Utterly convincing. Brave Anna forms the novel's emotional core as she fights to keep herself, her young brother, Kolya, and increasingly vulnerable father, Mikhail, from dying. She is soon joined in this endeavour by a handsome young doctor, Andrei, and her father's old flame, Marina.I was initially concerned that the ensuing romance arcs would obscure what I considered to be the 'true' focus of the novel - the brutal nature of life in Leningrad at this time - but in fact Dunmore deftly balances these threads, revealing how hunger and fierce cold can conspire to crush even the most loving souls.Using Anna as a central focus for the novel works well. She is a naturally sympathetic character, a hard worker whose life has already been touched by sadness. Since her mother's death in childbirth, she has sacrificed her education and been bringing up her brother as her own child. Her ambivalence towards her father - whose arty nature seems to preclude him taking an active interest in the upbringing of his son - and his former lover is understandable, as is her admirable determination to shield Kolya from the worst of the war.Although Anna's family remain the core focus, other stories are woven in as their lives cross Anna's: the tough worker who becomes a prostitute while her elderly mother sleeps in the next room; the pretty young thing who is killed by a chance fall of bricks; the young mother struggling to feed a newborn baby while her husband is away trying to save the Motherland. In this way, Dunmore creates a rich tapestry of experiences within the dying city. It is a largely female tapestry; most of the men are away fighting, and Anna primarily interacts with other women. I didn't find this limiting - I think there are already plenty of male perspectives on warfare - but some readers may feel Dunmore could have made more use of male experiences.Though most of the novel is written in the third person, with a close focus on a particular character's experiences, Dunmore often uses direct address to powerful effect:'What are days? You wake hours before it's light, from hunger. Hunger has burrowed deep into your stomach and is eating away at you. You turn, moaning, trying to dislodge it. You taste the foulness of your breath.'Once again, this evocation of wider, shared experience helps the story feel convincing and genuinely moving. I am very rarely moved to tears by anything in a book or film, but one episode in 'The Siege' did make me cry. Despite the necessarily sad nature of much of the plot and narration, the blurb claims that this novel is also 'a profoundly moving celebration of love, life and survival'. So it is - for those who survive.Unlike many historical novelists, Dunmore is able to incorporate much of the relevant historical background seamlessly into the narrative. Where more detail is required, the reader is treated to an account of Pavlov's number crunching. A government minister tasked with managing Leningraders' rations, Pavlov is aware that while he is writing history, history is also writing him. People will die or live according to his decisions, which once again helps the reader to appreciate the broader picture Anna's family are starving within.Final thoughts'The Siege' is a well-written, genuinely moving and thoroughly convincing account of life in Leningrad during the bombardment. I liked that the book focuses on civilians and their war effort, rather than following the men in the trenches. I also liked the fact that love doesn't conquer all - though it does help. I plan to read Dunmore's follow-up, 'The Betrayal', to find out what happens to the surviving characters, but this is because I enjoyed Dunmore's written style and easy embedding of history into the story, rather than feeling a 'need to know'; this novel has a perfectly satisfactory ending and feels quite self-contained. There is no prologue but there is a kind of epilogue at the end of the final chapter; regardless, at a relatively short 291 pages the book felt just the right length.I am not enough of an expert on the period Dunmore is writing about to comment in her historical accuracy, but the selected bibliography suggests that the book has been well-researched, and she notes on her website that the book grew out of her interest in the time and place, rather than the other way around, so I expect it is a fairly accurate account of what life was like for Leningraders at this time.I wasn't surprised to learn that Dunmore is also a poet (and an essayist and a writer of children's fiction). Her writing has an almost lyrical edge at times, in spite of the harshness of the world she depicts. This helps to make the story a pleasure to read.I borrowed this from my local library but it is well-worth the £8.99 RRP and would certainly withstand re-reading once a suitable period of time has passed: the quality of the writing and the emotional response the novel draws from the reader means that a vague, lingering memory of the plot need not prevent readers from savouring the novel afresh.Recommended.Read this if:- you find it interesting to read about periods in history, especially Russian or World War 2 history, in a fictionalised format;- you enjoy reading accounts of humanity under pressure and how people rise to the challenges inherent in starvation, freezing weather and the psychological pressure of the constant threat of death;- you enjoy well-written novels which tell convincing stories about sympathetic characters.Avoid this if:- you prefer to read fiction that focuses on different aspects of warfare - e.g. the the fighting - or on a different period of history;- you enjoy romances where love is all-powerful and all-conquering, regardless of circumstances.