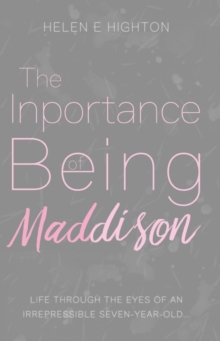 The Inportance of Being Maddison
Paperback / softback
Description
An accurate, hilarious and deftly drawn portrait of "normal" family lifeseen through the eyes of a seven year old narrator, who means well but in whosesteps disaster inevitably follows... Meet the McLarens: There's Maddie, our narrator, the 7 yearold `pocket rocket' with no `off' switch.
Liz, her permanently exhausted mum,who seems to spend her life in a state of permanent mortification or profoundapology for her daughter.
Dad, Joe, with his `Northern banter' and inability tosuffer fools lightly; big sister, Rachel, who at 21 sees her little sister asboth a source of shocked amusement and an audacious personality to be secretlyenvied. And lastly big brother, Robbie, who at a hormonal nineteen years of agehas a love-hate relationship with his frustrating little sister who frequentlyproves herself to be the bane of his life!
With an absorbing narrative and spiked with adult humourthroughout, we follow Maddie's quest to get an Xbox for Christmas, as promised, but on one condition - she muststay out of trouble for one wholeyear.
Unfortunately Maddison being Maddison has difficultystaying out of trouble for one whole day!
As frustrating as she is endearing,Maddison will leave you either cheering her on in the aisles - or simplywanting to throttle her!
Both parents and readers who delight in observationalcomedies will enjoy this cleverly written and heart-warming story about a veryordinary family who find themselves dealing with a gamut of crazy, embarrassingand frustrating situations thanks to their seven-year-old.
Information
Format: Paperback / softback
Pages: 344 pages
Publisher: Troubador Publishing
Publication Date: 30/08/2018
ISBN: 9781789010077
Free Home Delivery
on all orders
Pick up orders
from local bookshops