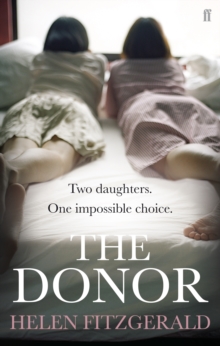 Description
The Donor, Helen FitzGerald's fifth novel, is a nail-biting psychological thriller about a single dad's horrorfying dilemma.
Will, who has given up everything to raise his twin daughters, has a terrible choice to make when both girls suffer kidney failure age 16.
Should he save one child? If so, which one? Should he buy a kidney - be an organ tourist? Should he sacrifice himself? Or is there a fourth solution - one so terrible it has never even crossed his mind?
Perfect for fans of Julia Crouch, Sophie Hannah and Laura Lippman, The Donor is a gripping thriller about a single dad faced with organ donation as his twin daughters battle to survive.
Helen FitzGerald is also the acclaimed author of The Cry, which was longlisted for the Theakstons Old Peculier Crime Novel of the Year award.
Information
Format: Paperback
Pages: 260 pages
Publisher: Faber & Faber
Publication Date: 01/07/2011
ISBN: 9780571254378
Free Home Delivery
on all orders
Pick up orders
from local bookshops
Reviews
Showing 1 - 2 of 2 reviews.
Review by marcejewels
16/06/2015
From my blogWhat an emotional thriller. A single father with twin daughters who were abandoned by the heroine addict mother. This book has young adult scenarios, drugs, violence, organ donor info and parenting all wrapped up in this tragic sad story.The Donor was told by all characters which I enjoyed, but mainly Will, the father. The voices were distinct but the overall style at times didn't flow, something felt off to me. Such a sweet story at first, the unique spin of having a single father bringing up his girls and genuinely missing and loving the mom. The parenting was comforting and realistic with learning as he goes. He is not a man that makes decisions, his choice is just to make others happy by going with whatever they wanted. Consequences and decision making was a huge take away from this story, how others are affected and when extreme thoughts are pursued or even thought about. Growing up Kay was the idealistic child and Gracie was the moody unapproachable child. Twins but different in every way. The way they approached life and then their illness was described in an effective heartbreaking way.When they found out both girls were sick, Will knew he had to find the mother. This journey, the planning and action was a highlight. The teenager who accepted the case to find the mother and Will's notes on how to choose which daughter was hilarious and painstakingly stupid but entertaining, both add to consequences of how it ends. There was a major mouth open moment which was obvious to me but I think won't be to all and will add to the realistic drama of events. Scenes involving a neighbour I thought was over the top and completely unnecessary, may even disgust some readers.Overall a great adult fiction thriller. It made me think of a few novels, My Sisters Keeper/Jodi P, Gone Girl/Gillian F and After You/Julie B. Favourite quoteFor the first time ever, he completely lost it: yelling and screaming in the hospital, trying to hit that wretched feral stray who was my mother. That's what happens when you store shit inside for a lifetime. It rots, then explodes.
Review by smik
16/06/2015
Helen Fitzgerald is one of those authors able to take the reader out of their own world to thinking through the options surrounding a particular issue. Twin teenage daughters both needing a kidney transplant forces Will to look for his wife Cynthia for the first time in 13 years. If it was just one daughter needing a kidney then he would willingly donate one of his. But two kidneys means two donors.Will employs an agency to search for his wife and this story branches out into Preston's story too, for Preston is also a teenager. And then there is Cynthia's story. She originally ran away to live with Heath a childhood sweetheart who has spent most of his life in jail.There is a lot of pathos in this story, missed chances, lives that haven't turned out right, but there's a lot of humor as well. I thought the characters were well drawn even down to Will's parents, apologetic because they are old and because their kidneys are not suitable for donation. How does it become crime fiction? I think THE DONOR Is really only on the fringes of crime fiction although murders are committed. But they are not really the focus of the story. The central issue is how to resolve this problem of needing two kidneys.A good read.